The Black Ninja
(2002)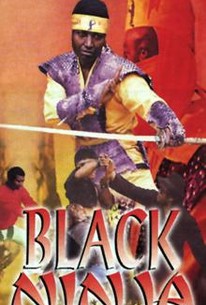 AUDIENCE SCORE
Critic Consensus: No consensus yet.
Movie Info
By day, Malik Ali (Clayton Prince) is a high-profile defense attorney who is extremely successful at getting blatantly guilty thugs out of jail. Racked by guilt, he spends his nights in a black mask protecting the city from evil as -- ta da! -- the Black Ninja. When lovely Tracy (Carla Brothers) is kidnapped by a low-level mobster (Nicky DeMatteo) before she can testify against him in court, the Black Ninja must confront his arch nemesis, a highly-skilled killer dressed in red (Yuki Matsuzaki), to save her.
Critic Reviews for The Black Ninja
There are no critic reviews yet for The Black Ninja. Keep checking Rotten Tomatoes for updates!
Audience Reviews for The Black Ninja
Wow, I mean just wow. I'm not going to sit here and pretend that Red Letter Media had nothing to do with my seeking this out and watching it. It had everything to do with it. After listening to them go on for a half hour about this amazing piece of cinematic dog crap, I just had to see it. If I were Clayton Prince (Me), I would be thankful for that... otherwise, I don't think anybody would be all that interested in seeing it. Who would put themselves through such torture? Anyways, The Black Ninja looks like it was made by a group of kids in middle school. Really. It's like a financier handed a bunch of kids some cameras, film, editing software and just turned them loose. It looks really, really bad. It's also a nice playbook for what NOT to do when you're making a movie. The people involved with it seem to be high on it, but I think they're more pleased about having the opportunity to make a movie rather than praising the movie itself. It's really bad, and unintentionally funny, but it's also quite fascinating in how terrible it is. I'd recommend it for that reason only, because you won't get any entertainment out of it whatsoever. That I can promise you.
Tim Salmons
Super Reviewer
The Black Ninja Quotes
There are no approved quotes yet for this movie.