The Black Pit of Dr. M (Misterios de ultratumba)
(1961)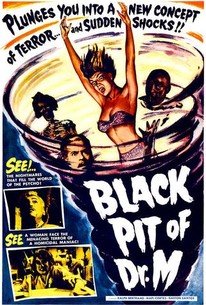 AUDIENCE SCORE
Critic Consensus: No consensus yet.
Movie Info
This grisly Mexican horror film details the attempts of the chief doctor at a sanitarium to contact the spirit of his former partner -- a man executed for a murder he didn't commit -- through a psychic medium. The doc soon regrets his decision when the deceased doctor's soul imposes itself on the land of the living, re-animating the horribly-mutilated corpse of his former assistant, who was burned to death by acid. The ghoulish, violin-playing attendant challenges the doctor for the attention of the new nurse, who had recently come to the hospital to collect an inheritance and wound up staying aboard. Sadly for her, the zombie's method of expressing his affection involves making her look as gruesome as he does. As with most of the horror films of director Fernando Mendez, this is stylishly shot but practically impossible to follow. ~ Cavett Binion, Rovi
Critic Reviews for The Black Pit of Dr. M (Misterios de ultratumba)
Audience Reviews for The Black Pit of Dr. M (Misterios de ultratumba)
½
Ahh more Mexican Horror at its best From Casanegra Films. Once again Gastón Santos plays in this movie as Dr. Eduardo Jimenez , Santos was also in the Living Coffin another excellent movie see my review here on Flixster. I've learned more about Santos, he was a bull fighter in Mexico, but not just any Bull Fighter as per my last review, he was a bull fighter on horseback. And he became a bull fighter after he was in films and acting, somewhat of a reversal to US Washed Up Athletics who become what they think are actors. Anyway two Doctors make an agreement who ever dies first would come back from the dead to show what the life hereafter holds, So that starts a good eerie Creature Feature type film, thought it seems I have seen a US version with different actors of this film, just can't remember its title. This is a Black & White Movie, English Subtitles, So get it if you can find it and wait for a rainy stormy night to sit down and watch this one. While I was watching it a soda bottle across the room on the table just fell over, pretty creepy. 4 1/2 stars for that alone. Add it to the collection .
Bruce Bruce
Super Reviewer
The Black Pit of Dr. M (Misterios de ultratumba) Quotes
There are no approved quotes yet for this movie.