The Black Room
(1935)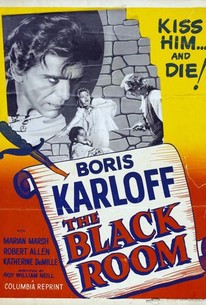 AUDIENCE SCORE
Critic Consensus: No consensus yet.
Movie Info
A curse pronounced upon land baron DeBerghmann has devastating long-range consequences for his twin sons Gregor and Anton. Twenty years later, Anton (Boris Karloff) has developed into a debauched and much-hated despot, disposing of his enemies by dumping their bodies into the titular "black room" on his estate. But when Anton's kindly, benevolent brother Gregor (also Karloff) returns home after a long absence, he is so beloved by the townspeople that Anton "graciously" gives up his title and estate to Gregor. Actually, Anton plans to kill his brother and take his place so that he can indulge in even more deviltry -- including the framing of young Lt. Lussan (Robert Allen), the sweetheart of the beautiful Thea (Marian Marsh), for the murder (committed by Anton) of Thea's father Col. Hassel (Thurston Hall). Ultimately, however, Anton's true identity is revealed by Gregor's faithful mastiff. Though reminiscent of an old folk legend, The Black Room was written directly for the screen by Arthur Strawn. ~ Hal Erickson, Rovi
Audience Reviews for The Black Room
Karloff plays twin brothers, one good and one evil, which sounds cool, and he gives good performances, but the movie tells you the end more than once, so it's just a matter of seeing how the prophesy of the good twin killing the evil twin will happen. It was predictable because of that, but it wasn't bad.
½
According to prophesy, the noble House of de Berghman will end as it began, in murder. Fratricide, to be precise, with a brother slain by his younger sibling. So, when his wife gives birth to twin boys (Gregor and Anton), Baron de Berghman takes the precaution of walling up the room in which the murder will supposedly take place: the Black Room. Several decades later, Gregor, now the despised Baron, comes up with his own drastic but beautifully simple scheme to cheat the prophesy... The good-and-evil twins plotline has been done to death of course - it probably already had by 1935 - but this one is hard to beat for entertainment. The production isn't quite first-class but Karloff is brilliant, essentially playing three parts here: wicked Gregor, kindly Anton, and wicked-Gregor-masquerading-as-kindly-Anton. Though the plot is full of holes (for instance, wouldn't it have been safest to have demolished the Black Room?) and the script has the annoying habit of stating the obvious, this is still great fun.
Karloff plays a good twin and a evil twin. Classic Karloff,looks great and is alot of fun to watch.
cody franklin
Super Reviewer
The Black Room Quotes
There are no approved quotes yet for this movie.