The Blackcoat's Daughter (February)
(2017)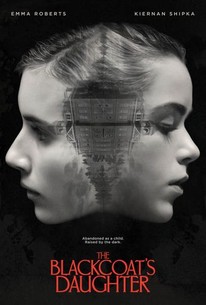 TOMATOMETER
AUDIENCE SCORE
Critic Consensus: Slow-building and atmospheric, The Blackcoat's Daughter resists girls-in-peril clichés in a supernatural thriller that serves as a strong calling card for debuting writer-director Oz Perkins.
The Blackcoat's Daughter (February) Videos
The Blackcoat's Daughter (February) Photos
Movie Info
A deeply atmospheric and terrifying new horror film, The Blackcoat's Daughter centers on Kat (Kiernan Shipka) and Rose (Lucy Boynton), two girls who are left alone at their prep school Bramford over winter break when their parents mysteriously fail to pick them up. While the girls experience increasingly strange and creepy occurrences at the isolated school, we cross cut to another story-that of Joan (Emma Roberts), a troubled young woman on the road, who, for unknown reasons, is determined to get to Bramford as fast as she can. As Joan gets closer to the school, Kat becomes plagued by progressively intense and horrifying visions, with Rose doing her best to help her new friend as she slips further and further into the grasp of an unseen evil force. The movie suspensefully builds to the moment when the two stories will finally intersect, setting the stage for a shocking and unforgettable climax.
News & Interviews for The Blackcoat's Daughter (February)
Critic Reviews for The Blackcoat's Daughter (February)
Audience Reviews for The Blackcoat's Daughter (February)
½
The film is quite effective in the way it builds a dark, unsettling atmosphere that makes us feel that something is wrong even if we don't know exactly what, but still it fails to develop its themes and characters more consistently and just makes it really hard for us to care.
Carlos Magalhães
Super Reviewer
½
A bit too thinly drawn but still an unsettling experience. Further proof that sound design is key to effective horror.
Alec Barniskis
Super Reviewer
½
I'm gonna start talking about something that the movie isn't really about, though there's still some relation to this film and where it goes with its narrative. Demonic possession/exorcism movies are certainly a tricky bunch to pull off. By that I mean the fact that every single one of these movies lives under the very large shadow that was cast by The Exorcist when it first came out almost FORTY-FIVE years ago. And there's a good reason for that, The Exorcist is still the best film about demonic possession that I've ever seen. No movie, that I've seen, that has tackled the same subject even ever come close to achieving that same level. I've even seen movies that poked fun at The Exorcist while failing miserably at everything they set out to do. How does that relate to this movie? I don't really know, I mean there's an element here of demonic possession and there's one scene, a short scene, of an exorcism. But the movie isn't about just that. It's more about exploring the dynamics of Katherine's personality and what drove her to commit the horrible acts that she did. And, in all honesty, it's a legitimately messed up movie, because it's not afraid to go to places that other movies just don't go. There's a level of brutality and heartlessness seen in Katherine's actions that I haven't seen in a horror movie in, it seems, ages. I think that's what gives the film its strength, to me, the fact that they can showcase such acts without anything in the way of sugarcoating. They don't try to pretty it up, however you go about prettying up what Katherine did. If I'm being honest, parts of this really remind me of last year's excellent, but divisive, The Witch. I can't really say that both movies are conventional horror flicks, because they're not. The Witch is more psychological horror, while I'd say that this movie falls under that same description. It's a slow building, tension rich and atmospheric experience. If I'm gonna be honest, there's very little here in the way of character development. Very few details, but those details are indeed very important, are revealed about Rose, Katherine, Rose's family and Joan. There's this mystery surrounding Katherine's parents that is never resolved, though the implication is that they are, in fact, dead. How they die is never really told, but it's not really relevant. There's a scene, prior to Katherine losing her mind, that heavily implies that something happened to her parents. The headmaster, along with a cop, came back to school grounds. ***SPOILERS*** It is never explained what exactly was afflicting Katherine/Joan. Was it a case of extreme mental illness or a legitimate demonic possession? I don't believe there's such a thing as the latter, but I'm suspending my disbelief. Why did Katherine, having escaped the insane asylum she was kept in after 9 years, then go out and kill Rose's parents. These people, apparently, never knew that Kath was the one responsible or don't remember what she looked like as the father (Bill) decided to help Kath out by giving her a ride to where she's going as she reminded him of his daughter. Then there's the ending that, I'm sure, people are gonna debate. The way I see it, it's actually very a simple ending to follow. Remember when I said that there was an exorcism scene at the hospital, after Kath's initial rampage. Well there was another thing I forgot to mention, in a couple of scenes prior to the hospital one, you got to see a black horned figure when the story was being told from Kath's perspective. This, obviously, represents the 'evil' that was afflicting her and whatnot. During the exorcism scene, this figure is scene again as Kath asks it not to leave her. The exorcism is a 'success', as in the next shot of where the horned figure was standing, it is no longer there. Katherine, escaping after 9 years, went back to the place where her rampage initially began, a prep school, in hopes of actually finding this demon to possess her again. And I can go in deeper into the film's themes, but I'd be here forever, that's just my basic theory for what Katherine was trying to accomplish. She led a very lonely existence and the one thing she had was taken from her, so she was gonna do whatever it took to get that...thing back, even if that meant letting an 'evil spirit' take over her body again. It's kinda messed up, as I said, but that's what I like about the movie. And, really, there's very little that I don't actually like about this movie. I liked the tone, I love the atmosphere of dread and despair that it built, I love how dark it truly went. The acting is top-notch as well, Kiernan Shipka (who played teen Katherine) was absolutely tremendous here. I don't think I've ever seen her before, but she was quite the creepy actress here. And I do mean legitimately creepy. Emma Roberts is great as always, as is Lucy Boynton. I really don't think I have anything else to say here, I really liked this movie a lot. It starts out slow, and some people are gonna hate that, but this is a movie that certainly pays off on its concepts. It pays off those concepts in a visual and visceral fashion as opposed to it paying off on its narrative, but this is still a really compelling experience. One that I'm sure is gonna divide people, but it's still one that I would definitely highly recommend to film geeks in general.
Jesse Ortega
Super Reviewer
The Blackcoat's Daughter (February) Quotes
There are no approved quotes yet for this movie.