The Bling Ring
(2013)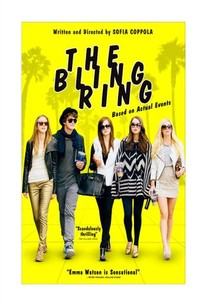 TOMATOMETER
AUDIENCE SCORE
Critic Consensus: While it's certainly timely and beautifully filmed, The Bling Ring suffers from director Sofia Coppola's failure to delve beneath the surface of its shallow protagonists' real-life crimes.
Movie Info
In THE BLING RING, Oscar Winning filmmaker Sofia Coppola takes us inside the world of these teens, where their youthful naivete and excitement is amplified by today's culture of celebrity and luxury brand obsession. The members of the Bling Ring introduce us to temptations that any teenager would find hard to resist. And what starts out as youthful fun spins out of control, revealing a sobering view of our modern culture. (c) A24
News & Interviews for The Bling Ring
Critic Reviews for The Bling Ring
Audience Reviews for The Bling Ring
Was this a very dramatic retelling of the Hollywood Hills burglaries by accomplished director Sofia Coppola? No. Was it a "Spring Breakers" wannabe that reveled in debasing its main characters? Oh yes. That's what puts me off of Coppola's latest venture, starring Emma Watson, Taissa Farmiga, and newcomer Israel Broussard. Coppola obviously detests her characters, and throughout their depiction obviously judges them for their decisions. She doesn't flesh them realistically, and instead gives us flat, uneven characters whose only ambition seems to be partying, drinking, and being juvenile delinquents. Because the characters are flat, the story barely goes anywhere. The entire film is them roving around in celebrities' houses, which isn't entertaining. Marc has some legitimate backstory, but otherwise we're left with bubble headed teenagers trying to be gangsta, and failing miserably. I'd rather re-watch "Kids" than sit through teenaged tripe like this again.
Spencer S.
Super Reviewer
½
Based on actual events, The Bling Ring follows a clique of celeb and fashion obsessed kds of privilege who indulge in their love of both by burglarizing the homes of various celebrities, all the while ,not exactly keeping a low profile. Like a number of Sofia Coppola's films, while adults do have a presence, this is a film dominated by the young. The core group of vapid, naive, yet not totally unlikeable youths are played by Emma Watson, Taissa Farmiga, Katie Chang, Claire Pfister, and newcomer Israel Broussard, who, like the men from previous Coppola efforts, delivers a very strong turn in a film filled with rock solid work. That's something I've grown to love about Coppola, how, no matter if they're a newbie or a veteran, she always manages to get her actors to deliver arguably some of, if not their absolute best work. This film is a pretty timely one. Not that the events that it depicts happened all that long ago, but in this status and celebrity obsessed culture we live in, relevance is everything, and it's crucial to be up on all that latest news and trends. In this regard, the film is both a crime caper, as well as a cheeky, light satire. I mean, some of it is pointed, but it's done in a way that I think will cause some people to not totally get it. The film easily fits into Coppola's oeuvre and aesthetics, but I think that maybe at times it could have been more blunt and forceful with the more biting elements and moments. Kudos though, for getting permission to film in the actual celebrities's homes and recreate the crimes. I especially enjoyed robbery scene done in a single take from a distance. As mentioned, the cast are awesome. Broussard is great, Emma Watson is a real scene stealer, and her American accent is delightful. I'd also love to see more of Chang and Farmiga. And, while I'm growing a bit weary of her, I enjoyed Leslie Mann as the mother of some of these girls, and she nails the modern day new-age philosophy of parenting "these type" of girls to a T. All in all this is a glossy and fun film that will satisfy, but doesn't leave a strong legacy like the kind the characters aspie to have, Regardless, I dug it and think you should check it out.
Chris Weber
Super Reviewer
There was no real depth to this film. Of course, we are dealing with superficial characters is obviously not promising but I guess I hoped it would be more substantial in terms of content. Watson's American accent is understandably uneven.
The Bling Ring Quotes
| | |
| --- | --- |
| Nicki: | Green doesn't look good on you. |
| Sam: | You won't fit in here. |
| Nicki: | You know it doesn't look good on you. |
| | |
| --- | --- |
| Nicki: | Your butt looks awesome. |
| | |
| --- | --- |
| Nicki: | You're stressing me out. |
| | |
| --- | --- |
| Nicki: | Let's go to Paris'. I want to rob. |