The Body Beneath
(1970)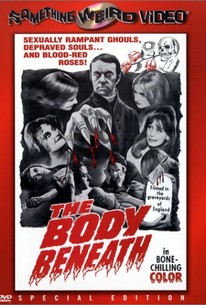 AUDIENCE SCORE
Critic Consensus: No consensus yet.
Movie Info
One of three awful England-based period horror pieces from Andy Milligan (the triptych also includes Bloodthirsty Butchers and The Rats are Coming! The Werewolves are Here!), this is probably the least unsound of the bunch, with a semi-comprehensible script about an evil priest (Gavin Reed) who returns to his former parish to search for his vampire ancestors and sets up an old church as the base of operations for their blood-drinking underground. He also casts his sinister sights on a lovely young woman (Jackie Skarvellis) in order to indoctrinate her into the sect and perpetuate the vampire bloodline. Still, scenes seem to go on forever and there's an utterly laughable subplot about a silly hunchback named Spool (Berwick Kaler), who betrays his master for a spinal operation. This cheesy vampire outing bears all the classic Milligan earmarks, including fuzzy photography (and even fuzzier sound), hideous attempts at acting, cheap gore, and clumsy editing. If viewers can put up with Milligan's talky, overwritten scripts and molasses-like pacing, there are a few peculiar moments that might make it worth their while. The costumes alone are enough to provide a few giggles, and the climactic cannibal-feast scene is a pseudo-psychedelic hoot. The vast majority of horror fans, however, will want to avoid this film like the plague, unless they need a quick cure for insomnia. Also known as The Vampire's Thirst. ~ Cavett Binion, Rovi
Critic Reviews for The Body Beneath
There are no critic reviews yet for The Body Beneath. Keep checking Rotten Tomatoes for updates!
Audience Reviews for The Body Beneath
½
This vampire flick has the makings of a good story, but all the painted blue girls and unimportant characters get in the way of the actual story. Plus, none of the actors are that good. This could have been a good movie. As it is, it's just so-so.
The Body Beneath Quotes
There are no approved quotes yet for this movie.