The Book of Eli
(2010)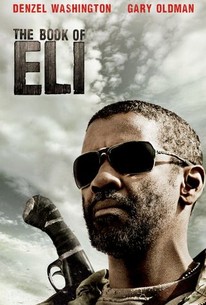 TOMATOMETER
AUDIENCE SCORE
Critic Consensus: It's certainly uneven, and many viewers will find that its reach exceeds its grasp, but The Book of Eli finds the Hughes brothers injecting some fresh stylish fun into the kind of post-apocalyptic wasteland filmgoers have seen more than enough of lately.
Movie Info
In a post-apocalyptic America where the once-picturesque countryside has become a desolate and violent wasteland, one man (Denzel Washington) fights to protect that sacred tome that could hold the key to the survival of the human race in this futuristic thriller from filmmaking duo Albert and Allen Hughes (From Hell and Dead Presidents). Gary Oldman, Mila Kunis, and Ray Stevenson co-star in the Warner Bros. production. ~ Jason Buchanan, Rovi
Critic Reviews for The Book of Eli
Audience Reviews for The Book of Eli
Some will kill to have it. He will kill to protect it. Saw it again! Great Movie! This movie really gets into the religious side of life and it shows how many people lose faith in each other, with others, and towards god especially meanwhile there's others too that do whatever it takes to defend there faith no mattter what. There's a clear message behind this movie even though it's kinda harsh and rebellious but the movie really delivers and demonstrate how even though people are how they are they can change with a book and a little faith. Eli (Denzel Washington) has been on a journey for 30 years, walking west across America after a cataclysmic war that turned the earth into a total wasteland. The world has become a lawless civilization where people must kill or be killed. The barren roads belong to gangs of cutthroats who rob and kill for water, a pair of shoes, a lighter, or just for fun. Eli is a peaceful man who only acts in self defense, and becomes a warrior with unbelievable killing skills when he is challenged. After the war and the "Big Flash", Eli was guided by a higher power to a hidden book and given the task of protecting the book and taking it to its final destination. Eli guards the book with his life, because he knows that the book is the only hope that humanity has for its future.
EightThirty .
Super Reviewer
½
A lone traveller through the post-apocalyptic wastelands of the United States is pursued by the ruler of a ramshackle society who believes a book he carries is the key to expanding his empire. The Book Of Eli is basically a western done in the style of The Road. It contains the usual mix of desolate wastelands populated by Mad Max wannabes shot through high contrast filters, punctuated with occasional bursts of violence to keep the multiplex audiences in their seats in good time for the Hughes brothers to deliver their aimless sermon about the meaning of the word of God. Or something. Eli's book is a slightly clunky metaphor for organised religion and the idea of a malevolent ruler intending to use it to control the population for his own nefarious purposes is actually quite an interesting one. Unfortunately the script is wishy washy and unfocussed, preferring a weak "twist" to any meaningful conclusion leading to the film petering out to a whimper. The superior cast certainly keep it watchable for its duration but the disappointing "finale" makes it all seem empty and pointless. In the end the Hughes brothers aimed for Mad Max Plus and ended up with The Postman 2.
The Book of Eli Quotes
| | |
| --- | --- |
| Eli: | Cursed be the ground for our sake. Both thorns and thistles it shall bring forth for us. For out of the ground we were taken, for the dust we are... and to the dust we shall return |
| Eli: | Cursed be the ground for our sake. Both thorns and thistles it shall bring forth for us. For out of the ground we were taken, for the dust we are... and to the dust we shall return. |
| | |
| --- | --- |
| Eli: | I walk by faith, not by sight. |
| | |
| --- | --- |
| Eli: | With all my heart and soul. I always believed that I'd find a place where this book belonged, where it was needed…but I haven't found it yet. |
| Eli: | With all my heart and soul. [pauses] I always believed that I'd find a place where this book belonged, where it was neededâ?¦ but I haven't found it yet. |
| | |
| --- | --- |
| Solara: | "It's amazing you guys have survived out here all by yourselves" |
| Solara: | It's amazing you two have survived out here all by yourselves. |
| Martha: | "Well George is somewhat of a handyman, we've had a few try and take it from us, haven't we George!" |
| Martha: | Well George is somewhat of a handyman, we've had a few try and take it from us, haven't we George! |
| George: | "Yes we have" |