The Book of Henry
(2017)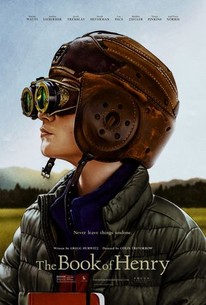 TOMATOMETER
AUDIENCE SCORE
Critic Consensus: The Book of Henry deserves a few points for ambition, but its tonal juggling act -- and a deeply maudlin twist -- may leave viewers gaping in disbelief rather than choking back tears.
Movie Info
Sometimes things are not always what they seem, especially in the small suburban town where the Carpenter family lives. Single suburban mother Susan Carpenter (Naomi Watts) works as a waitress at a diner, alongside feisty family friend Sheila (Sarah Silverman). Her younger son Peter (Jacob Tremblay) is a playful 8-year-old. Taking care of everyone and everything in his own unique way is Susan's older son Henry (Jaeden Lieberher), age 11. Protector to his adoring younger brother and tireless supporter of his often self-doubting mother - and, through investments, of the family as a whole - Henry blazes through the days like a comet. Susan discovers that the family next door, which includes Henry's kind classmate Christina (Maddie Ziegler), has a dangerous secret - and that Henry has devised a surprising plan to help. As his brainstormed rescue plan for Christina takes shape in thrilling ways, Susan finds herself at the center of it.
Critic Reviews for The Book of Henry
Audience Reviews for The Book of Henry
½
Henry is a child savant of the highest degree played by Jaeden Lieberher. He is a precocious genius, good at literally everything, and a great parent to both his brother (Jacob Tremblay) and his alcoholic mother (Naomi Watts). From the start, one is misled into thinking this might be a quirky black comedy when Sarah Silverman shows up. One is never sure if her presence is ironic, but considering that the movie swerves violently into child sexual abuse, childhood terminal illness, and cop killing, it's safe to say that no one involved with the film was sure what tone they were going for. I can't leave out that Silverman romantically smooches Henry (an 11 year old) on his death bed or that Naomi Watts exhausts a veritable checklist of everything a parent should not do. Early on there's a scene where the main characters set up a makeshift tableau just to flip off the audience, and I can't help but feel it was director Colin Trevorrow working out some misplaced aggression for stepping down (read: getting fired) from directing Star Wars Episode IX. In a bold (and some would call it stupid) twist, Henry dies from a brain tumor halfway through the movie, and his dying wish is for his mother and brother to conspire to kill the police commissioner - a contingency plan that he has left elaborate, prescient instructions with which to accomplish. You would think once the tone has taken a turn for the dark they would commit to it, but instead there are spots of tone-deaf humor, hammy acting, and Lifetime Network-tier cloying riddling this strange and silly Mouse Trap game of a drama. The Book of Henry is one of those few films that pop up every year or so that is technically competent yet is so bafflingly misguided it makes you call into question the intentions and sanity of the people working on it. Is it a breakdown in communication between the director and the actors? Is the screenwriter subtly screwing with the script on a day to day basis? And why did no one mention to Naomi Watts that it's improper form to hold her video game controller at eye-level while playing? She's completely overextending her thumbs and could give herself carpal tunnel. Regardless, The Book of Henry is a movie so bad that I had to watch it twice to believe it's real, but I would not recommend that you do the same.
K Nife Churchkey
Super Reviewer
An easy contender for the worst picture of the year, The Book of Henry is a baffling stew of nonsense mixed together with enough bizarre tonal shifts, bad dialogue, and disinterested actors to drown a Star Wars prequel. Its story concerns a young prodigy and his family. Henry has "movie genius syndrome" and is SOOO intelligent he basically finances the household by playing the stock market. His mother, played by Naomi Watts, is a mostly irresponsible and borderline lazy womanchild who prefers to play Gears of War and drink with her best friend, Sarah Silverman. Therefore, Henry raises his younger brother and grows up with his mother. Oh, and he builds elaborates Rube Goldberg machines because that equates "mad genius" in movie language. Then, randomly halfway through the movie, Henry's case of "movie genius syndrome" produces a tumor that puts him in a hospital for two weeks and fucking kills him. (But not before the eleven-year-old gets to make out with Sarah Silverman. So...umm...yea?) With our protagonist now dead, Naomi Watts discovers a message left behind by Henry. It turns out that that the chief of police next door (Dean Norris) is molesting his step daughter and our precocious child hero had uncovered the truth and was devising a plan all along. He encourages his mother to fucking assassinate this public official using money and instructions he has left behind. Naomi Watts AGREES to this idiotic plan and does the business of preparing for the deed by purchasing a high-powered sniper rifle and practicing in the backyard, shooting literally 40 feet away from her intended victim. And this is all to the backdrop of an impending grade school talent show because this is a fuckin family movie, goddamn it. Now why the hell did I just tell you the "plot" of this movie? Because it's so goddamn bizarre that you would not believe how utterly retarded The Book of Henry was, if I didn't tell you this bullshit that someone actually got paid to write. Colin Trevorrow was successful in making both cute indy comedy Safety Not Guaranteed and bloated mega-blockbuster Jurassic World work wonders with extremely archetypal characters. But he is so disinterested here that every shot looks flat, boring, and lifeless. It is perhaps the worst looking movie I have seen in a couple of years. Naomi Watts deserves credit for making the maudlin moments of the film work, especially regarding Henry's death and the finale, but she's the only one. Every other character is irritating, strange, and inhuman. Like fucking aliens wanted to make a small family drama with a bit of a twist but instead shoved together material from three different genres and gave us a howler for the ages. The Book of Henry was a disaster and a bomb to be sure, but it will remain great fodder for B-movie showings and film school discussions on how NOT TO MAKE A MOVIE.
Joshua Sheetz
Super Reviewer
The Book of Henry is an innovative drama that both brings smiles and pulls on your heart strings. At first I thought this was going to be a child friendly family film, then the second act arrives and it just hits you. This is incredibly smart! I mean sure, Henry himself is a child genius but the film's inner dynamics is very refreshing to watch. How Henry, a child, is the adult and more respectable role in the family and his mother is playing video games and not worrying about financial documents. This role reversal is well explored, so I was pretty happy. The problem is I can't really say too much about the last two acts (way too many spoilers), but the film changes and transforms from a family film to a more mature adult viewing. When I say mature, I mean it is ridiculously heavy...it just hits you and I wasn't prepared for it. Then the film changes again and starts to become a thriller, whilst still tackling mature themes such as child abuse. Whilst these are all perfectly acceptable, the sudden changes were jarring and the tonal inconsistencies did disrupt the narrative. It's a shame because the intent for innovation and originality was there, but it just didn't quite hit the mark. Colin Trevorrow made a suitable transition from blockbuster (Jurassic World) to a smaller drama, his camera shots were clean although nothing outstanding. The acting though, oh yes. I have a little place in my heart for Naomi Watts and she was really good as the mother who's character transforms dramatically. This showcases her acting chops and solidifies her as an exquisite actress. Jaedan Lieberher plays Henry, he executes his lines with precision and has that sarcastic wit that a self-proclaimed genius would have. I enjoyed his performance. Jacob Tremblay once again proves he is Hollywood's best child actor right now, he really is the heart of the film. So the story and acting was great, just the sudden changes in genre prevented this from being a powerful drama. It tried to be everything instead of focussing on one genre.
Luke Andrews
Super Reviewer
The Book of Henry Quotes
There are no approved quotes yet for this movie.