The Boss Baby
(2017)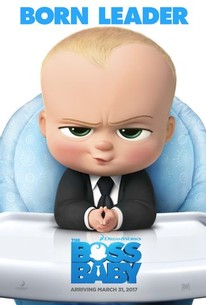 TOMATOMETER
AUDIENCE SCORE
Critic Consensus: The Boss Baby's talented cast, glimmers of wit, and flashes of visual inventiveness can't make up for a thin premise and a disappointing willingness to settle for doody jokes.
Movie Info
DreamWorks Animation and the director of Madagascar invite you to meet a most unusual baby. He wears a suit, speaks with the voice and wit of Alec Baldwin, and stars in the animated comedy, DreamWorks' The Boss Baby. The Boss Baby is a hilariously universal story about how a new baby's arrival impacts a family, told from the point of view of a delightfully unreliable narrator, a wildly imaginative 7 year old named Tim. With a sly, heart-filled message about the importance of family, DreamWorks' The Boss Baby is an authentic and broadly appealing original comedy for all ages.
News & Interviews for The Boss Baby
Critic Reviews for The Boss Baby
Audience Reviews for The Boss Baby
½
There is absolutely no excuse for this crappy animation to have been nominated for the Academy Awards (or anything other than the Razzies, which is what it deserved), since everything we see here is poorly thought out, the gags are pedestrian and terribly unfunny, and the plot just lame.
Carlos Magalhães
Super Reviewer
When it comes to animated films, it's usually a standard in today's catalogue of films, that the animation itself is gorgeous. The Boss Baby is nothing short of beautiful in terms of animation, so I want to get that completely off the table to begin with. With the recent release of the Blu-Ray and DVD, I thought I'd check out the film that stirred up so much mediocrity/hate with the critics. I have to say, this film doesn't deserve nearly the grades that it's been given. No, I won't be remembering this film as one of the greatest animated films out there, but it tries very hard to make itself relevant, in that its core story is filled with much more heart than I was expecting. Here is why I believe The Boss Baby may just be worth your time. When this film opens and you see what the main premise is going to be, you'll probably find yourself rolling your eyes like I did, not laughing whatsoever. Tim, a 7-year-old boy is given a baby brother. Noticing that there's something off about him, he learns he has come from somewhere distant and he has the mentality of a full-grown adult. Determined to get him out of the house, he teams up with this "boss baby" in order to take down an evil corporation. Hating each other at first, this film really is about growing to like each other and learning the true meaning of family. Sadly, the trailers do not express this and the first act of this film makes you believe it's just going to be a silly comedy from start to finish. Yes, this is a very silly film, but the elements that begin to present themselves throughout the second and third acts were really what changed my mind about The Boss Baby. It's very rare that I watch a movie, find myself completely uninterested throughout almost the entirety of the first 30 minutes, only to be completely won over by the tie the climax hits. The Boss Baby is one of those rare occasions where the film gets better as it goes on. Not only did I find myself caring about the characters by the end, but a tear may have even formed. I won't be head over heels about this film when describing it to people, but as a film that seems pathetic on the surface, this is a surprisingly decent flick. My biggest fear going into this film, was the fact that the central character in "boss baby" would be a little too much. As mentioned above, the first act of this film suffers from this aspect as well. When you first meet him (voiced by Alec Baldwin), it seems as though he's just going to be a rip-off of the character Stewie from the television show Family Guy, but to my surprise, he's also like that character in the best way possible as well. When it's necessary for him to become heartfelt and charming, it really works in context with the overall story and that was easily the part that made this film work as well as it does by the end. In the end, The Boss Baby does absolutely nothing to separate itself from other animated films that are just like it. It surrounds itself it surrounds itself in cliches and once the film reaches a certain point, you'll be able to predict everything from there on out. That being said, the cliches are effective and I honestly didn't expect them to even go that certain route, which is why I think it works more than most people do. The screenplay is generic and recycled, the animation is beautiful (but familiar), the premise is lacklustre from the start, and it's cliched from beginning to end. However; this film somehow manages to tug on your heart strings and it won me over by the third act. I can't say I thoroughly enjoyed this film, but I enjoyed watching the film progress, as it gets better and better. In short, The Boss Baby is a generic kids film that managed to be better than it should've been. If you don't have anything to watch, I don't think you'll regret giving this one a rent. Just don't expect too much out of it.
Holy crap another movie adaptation of a children's book, picture book. This has to be one of the most bizarre premises I've come across for a children's book in some time, well at least until the end where all is somewhat explained. So basically you've got this family of three, mum dad and their little boy Tim. Tim is as happy as can be with his life because he gets lots of love and attention from his parents. But things take a turn for the worst when his mum and dad have a baby. Much to Tim's amazement the baby arrives in a taxi, wears a suit, and he can talk. Almost straight away the baby throws Tim's life into disarray without his parents noticing. It turns out that the baby (called 'the boss') is actually a baby but works for a mysterious company called Baby Corp. Here all babies have the minds of adults and work to keep infant love at a good level. Basically when people are born some are sent to their families but others that show a different state of mind are held back to work for Baby Corp, or something like that. These adult minded babies have to drink a special formula that keeps them as babies forever, if they stop they will grow old. Meanwhile, all other babies that go to their families, do retain memories of Baby Corp though their pacifier (dummy). But when that pacifier is eventually taken away (by the parents) they lose those memories. Utterly bizarre I know. This premise raises many questions though. Does this mean that all the babies in Baby Corp are immortal? Surely it does because if they never stop drinking the formula they never grow older. Where is Baby Corp suppose to be exactly? When a baby is held back to work for Baby Corp, what happens with the family expecting that baby? Its also mentioned at one point by Tim that his parents told him where babies come from. But as Boss baby points out that is incorrect, so how come adults have never noticed the fact that no one gives birth? I guess you could say I'm reading into this too much, but these questions do kinda spring out at you. Lets look at the villain. This guy used to be one of Baby Corps top babies, but apparently he was lactose intolerant so the special formula didn't work properly on him and he grew up. OK fair enough, but how come he can still remember Baby Corps? I thought babies lose that memory without their pacifier. Was it different for him because he used to be a CEO of Baby Corp or because he had been using the special formula or something?? I must admit the plot behind this movie was way more convoluted than I ever imagined. I just assumed it would be about a baby that acts like an adult behind its parents backs, kinda like an animated 'Look Who's Talking' type thing. I mean the casting of Alec Baldwin was a good move that's for sure. If there's anyone who has the perfect temperament for being a suit trapped in a babies body, its Alec Baldwin. Hell Baldwin is intimidating enough just by looking at his face, he constantly has that angry dad expression on his face, the scary boss with a short fuse. So spot on voice casting there. Visually the movie is a treat but that's nothing new these days. But what I did find more interesting were the short imagination sequences that Tim has when he's playing. These sequences had a different, more simplified artistic style (kinda reminiscent of some old WB cartoons) with a much more vibrant, almost neon, colour palette. It was these sequences that I found to be way more intriguing and enjoyable than the rest of the actual movie. I especially liked the artistic style and colours used, really bold and striking. Other positive moments I can mention, a nice little 'Raiders of the Lost Ark' homage, and even more bizarrely a homage to the old classic kids board game [i]Mouse Trap[/i] (80's kids will know of this). Where on earth did that come from?? So yeah, its pretty to look at, the voice acting is solid and its amusing in places. I liked it when Tim was battling with the baby, from his parents point of view its seeing the duo merely playing, but its actually a battle. The sequence in the back garden with the pedal car is the perfect example of that. In general its a very average outing really (with a peculiar plot). A standard modern CGI kids flick with all the right boxes ticked.
Phil Hubbs
Super Reviewer
The Boss Baby Quotes
There are no approved quotes yet for this movie.