The Boston Strangler
(1968)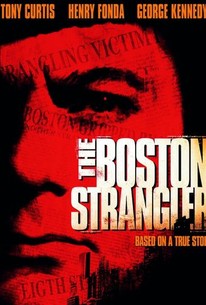 The Boston Strangler Photos
Movie Info
The Boston Strangler adopts the split-screen technique then in vogue (see also The Thomas Crown Affair) to relate the true story of self-confessed mass murderer Albert DeSalvo. Adapted by Edward Anhalt from the book by Gerold Frank, the film covers the years 1962 to 1964, during which time a dozen women were raped and murdered in the Boston area. State-appointed officer John Bottomly (Henry Fonda) arrests as many known sex offenders as he can get his hands on in hopes of finding a clue as to the Boston Strangler's identity. As these things often happen, the police come across the necessary evidence through pure luck. Well-played by Tony Curtis (whose makeup is startling), DeSalvo himself does not appear until an hour into the film. When caught, the schizophrenic DeSalvo insists that he knows nothing of the murders. Under interrogation and hypnosis, his homicidal impulses are exposed. Meticulously cast, The Boston Strangler offers excellent vignettes by Sally Kellerman as the Strangler's only surviving victim and by Hurd Hatfield as an erudite sex pervert. When Boston Strangler was first shown on TV in 1974, a voice-over coda was added, noting that Albert DeSalvo was stabbed to death in prison on November 26, 1973, and that many experts were convinced that he was not the killer but that his confessions were the product of a delusional mind. ~ Hal Erickson, Rovi
Critic Reviews for The Boston Strangler
Audience Reviews for The Boston Strangler
Classic psychological thriller with horror elements, The Boston Strangler which is based on the true story is a thoroughly engaging, and shocking picture that is brilliantly acted and directed. The film boasts a strong sense of atmosphere, which adds a depth to the film that really makes it that much more disturbing. The acting here is terrific, and the direction makes for a truly memorable picture, one that is sure to unsettle its viewers. What makes this film truly shocking is the fact that the events portrayed on-screen really happened, and films like this that uses true stories such as the Boston Strangler are more disturbing than any fictional character because the horror here is real, and it Makes for an even more compelling and engrossing picture. Mixing different genres, this is a classic picture that recounts a truly shocking murder case, and it is one of the finest in the genre. If you enjoy these types of movies, then The Boston Strangler is a must watch. The direction is immaculate and the pace of the film steadily builds up, and in turn, you're sucked even more into its story. Real life events make for more interesting film subjects because they actually happened, and they have a gripping nature that fiction simply can't pull off. This one delivers a unique, shocking and unforgettable film going experience. With top notch performances, intense murder sequences, and a great story to grab your attention, The Boston Strangler is a highly memorable and engaging thriller horror drama that should be seen for its memorable kills sequences, riveting performances and terrific direction. If you want a riveting, well constructed picture, then The Boston Strangler is a worthy film to watch, especially if you films of this nature.
½
A captivating and absorbing screen treatment of Gerold Frank's best-selling account of the infamous Boston murders of 11 women allegedly committed by a schizophrenic plumber named Albert De Salvo, played by Tony Curtis in startling and convincing dynamic performance as the deranged De Salvo and Henry Fonda in a fine creditable performance as John S. Bottomly the man in charge of the investigation into the serial killings, directed skillfully by Richard Fleischer in a documentary-style detailing of the brutal killings, manhunt and prosecution of this notorious killer. The film also has a unique complex multi-image technique that is very effective. Outstanding supporting performances by George Kennedy, Mike Kellin, Hurd Hatfield, Murray Hamilton, Jeff Corey, Sally Kellerman, William Marshall and William Hickey. Dramatically intense, unrelentingly disturbing as it is meant to be. Recommended.
Danny Rovira
Super Reviewer
I know split screen technique was a novelty in the days of this movie, but I hate when a gimmick of this kind is overused. Tony Curtis was outstanding as the disturbed Albert De Salvo.
Pierluigi Puccini
Super Reviewer
The Boston Strangler Quotes
There are no approved quotes yet for this movie.