The Boy And The Beast (Bakemono No Ko)
(2016)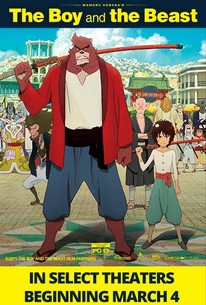 TOMATOMETER
AUDIENCE SCORE
Critic Consensus: The Boy and the Beast combines familiar parts to create a gripping, beautifully animated adventure with inventive storytelling to match its visual appeal.
The Boy And The Beast (Bakemono No Ko) Photos
Movie Info
The latest feature film from award-winning Japanese director Mamoru Hosoda (Summer Wars, Wolf Children): When Kyuta, a young orphan living on the streets of Shibuya, stumbles into a fantastic world of beasts, he's taken in by Kumatetsu, a gruff, rough-around-the-edges warrior beast who's been searching for the perfect apprentice. Despite their constant bickering, Kyuta and Kumatetsu begin training together and slowly form a bond as surrogate father and son. But when a deep darkness threatens to throw the human and beast worlds into chaos, the strong bond between this unlikely pair will be put to the ultimate test-a final showdown that will only be won if the two can finally work together using all of their combined strength and courage.
News & Interviews for The Boy And The Beast (Bakemono No Ko)
Critic Reviews for The Boy And The Beast (Bakemono No Ko)
Audience Reviews for The Boy And The Beast (Bakemono No Ko)
½
When Studio Ghibli slowed down production, many people went into a frenzy, including myself. Yes, there are other production companies who make great anime films, but none have really been able to accomplish the amazing work done by that studio. Well, I have just swallowed every single one of those words after watching The Boy and the Beast. Not only is this on the same level, but it's even better than some of their work. While this review will not be a comparison in any way, I found myself pleasantly surprised at how incredibly played-out this story is. Available on #Netflix and Blu-Ray/DVD, here are a few reasons why this film should be demands some attention. With a very Star Wars-esque feel to it, this film follows a young boy who has run away from his home life. Stumbling across another world just outside his door, where beasts fight each other in combat, he is raised by one and trained until he reaches adulthood, when he returns back home to face reality. With some very spiritual elements sprinkled throughout and a climax that may just bring a few tears to your eyes, The Boy and the Beast is a great film in every conceivable way. Never once did I roll my eyes at the theatrics, due to the fact that everything is taken as seriously as it should be, adding levity when needed, and making you truly believe that this other world exists. If I had a few minor complaints about this film, it would be the fact that the core villain that slowly arises throughout the film is about as generic as you can get. Solely due to the fact that he was raised by a bad man, the villain is the son of a lethal fighter. Hellbent on helping him, his powers make his plans much easier to execute. Everything is resolved very nicely in the final act, so most of this can be forgiven, but I didn't find myself particularly attached to the villain until the final moments of the film, which was a little too late for me. Having said that, the rest of the film is near-perfect and is able to deliver many messages along the way. Although told through animation, the banter between the two main characters is what really sold this film. By the end, if you haven't bought into their relationship with one another, you probably won't feel much impact when the climax occurs. For myself, this was the biggest plus for the film and the fact that it continued to serve a bigger purpose for the story as a whole when it moved along, made it simply a terrific experience. The running time also worried me, as an animated film is rarely over 90-100 minutes, but clocking in at exactly two hours, just about every minute was used to easier dazzle the viewers with visuals or move the story forward in a comedic or dramatic way. The Boy and the Beast is just a fantastic story, there is no denying that. From beginning to end, this film is all about telling a compelling story. Sure, there are some awesome action sequences and great characters throughout, but this story is really something to admire. Pretty much taking a direct page from Joseph Campbell's A Hero's Journey, The Boy and the Beast knows exactly what it wants to be and accomplishes it in spades. This is easily one of the best animated films that was released in 2016. Technically it's a 2015 release, but the U.S. release was 2016, which is what qualified it for awards consideration this year. Regardless, this film is everything I hoped it would be and more. There are a few minor hiccups in the middle when developing the villain, but this is an otherwise perfectly told film. I loved nearly every second of it.
½
Mamoru Hosada's latest effort proves himself once again to be one of the most brightest and innovative storytellers working in animation in this day and age. Much like his three previous films, 'The Boy and the Beast' is a uniquely lavish visual composition. Adhering more towards the fantasy genre and conventions, The film follows a very relatable story of a young boy torn from his real world reality and being drawn into a parallel universe dominated by bipedal anthropomorphic talking animals taking on a very exotic period and mystical existence co-existing with ours. We follow the story of the young would be hero; Ren, who upon being taught by a beast-like warrior, eventually adapts to his lifestyle and philosophical understandings and overcomes his own fears and instincts, yet it's his previous connection to our world that draws him near to a more normal way of life. Though it's a very character driven story, it's really the 'coming of age' moral hardships and the film's visual grandeur that really makes this cinematic 'Anime' outing distinct from all other if not all of Mamoru's work. It's highly recommended to seek out for one's own viewing as it's easily one of the most touching and coolest looking anime films of recent years.
Luke Eberhardt
Super Reviewer
The Boy And The Beast (Bakemono No Ko) Quotes
There are no approved quotes yet for this movie.