The Boy with Green Hair
(1948)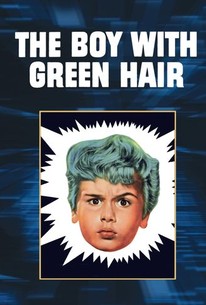 The Boy with Green Hair Photos
Movie Info
Joseph Losey's gentle parable concerning tolerance and understanding had the ill luck to be completed right before R.K.O. shifted hands to Howard Hughes. Hughes, an advocate of entertainment over message, tried to re-edit it and tone down its theme of tolerance. As it stands, the film deals with lonely child Peter Frye (Dean Stockwell), made an orphan by World War II, who finds himself shuttled from one relative to another -- until he finally ends up living in safety and security with elderly small-town waiter Gramps (Pat O'Brien). Then one morning, Peter wakes up to discover that his hair has turned green. Now the town looks at him in a totally different way -- children make fun of him, adults are disturbed at his appearance, and even the friendly milkman turns against him. Gramps try to calm down the local townsfolk when Peter runs away, but they refuse to listen. Instead they decide to band together to find Peter and shave his head.
Critic Reviews for The Boy with Green Hair
Audience Reviews for The Boy with Green Hair
I saw this film on a Netflix Stream and I must say right off the bat that it is the worst video Quality film I have ever watched, though I don't think that is of any fault of Netflix its just what's available. I was going to turn this one off after the first 10 minutes but then I was captured by the story line. A 1948 movie all about tolerance, about someone being different and when they are how bad people can treat them from kids to adults, how fast gossip can spread and what it can affect someone. Many Morals to the story in this one. Just wish video quality was a little better. 3 Stars
Bruce Bruce
Super Reviewer
½
Preach, preach, peach, war orphans, boo hoo... Plus the singing was annoying
Marion Ravenwood
Super Reviewer
The Boy with Green Hair Quotes
There are no approved quotes yet for this movie.