The Boys in Company C
(1978)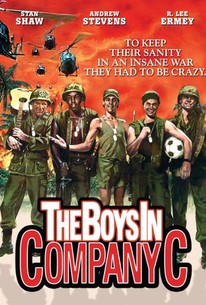 AUDIENCE SCORE
Critic Consensus: No consensus yet.
Movie Info
Cowritten by director Sidney J. Furie, The Boys in Company C charts the fortunes of five young Marine recruits. Led by Stan Shaw, the quintet is shipped off to Vietnam. The film makes no bones about the demoralizing effect the war has on its participants, nor the pigheadedness of the military higher-ups who think only in terms of body counts and photo ops. Of the five recruits, the most memorable are Michael Lembeck as Vinnie Fazio, the resident wiseguy (the same type of role played by Lembeck's dad Harvey in 1950s war films) and Andrew Stevens as Billy Ray Pike, a straight-arrow type who succumbs to the lure of drugs; the others are played by Craig Wasson, James Canning, and Scott Hylands.
Critic Reviews for The Boys in Company C
All Critics (3) | Top Critics (1) | Fresh (2) | Rotten (1)
I think the movie is, first and best, a thrilling entertainment that starts by being funny and ends by being very deeply moving. But I also think it reflects an attitude about Vietnam that wouldn't have been possible in a war movie of the early 1940s.

The movie isn't really terrible, it just seems to be inspired by other movies about other wars.
Furie's film about the combat experience of five soldiers is one of the first movies about thr Vietnam War
Audience Reviews for The Boys in Company C
One of the first films produced about the American war in Vietnam. I remember it making headlines in 1978, not due to it's merits but to it's shortcomings. Audiences were staying away in droves because it was centered around a very unpopular war that had only recently ended. Also, Vietnam veterans were complaining that it was unflattering and unrealistic. I'd group it with other films of the era like The Green Berets or maybe Go Tell the Spartans that are courageous but not completely honest. A group of films produced by activists, not soldiers, that are more about politics than actual events.
Randy Tippy
Super Reviewer
When this was first recommended to me I had never heard of it, which is odd because I?ve always been a fan of movies about Vietnam. In many ways this is a forgotten film and I think that might be because The Deer Hunter came out the same year and eclipsed it. Really this suffers in comparison to a lot of Vietnam movies; it?s not as thoughtful as The Deer Hunter, as intense as Apocalypse Now, as authentic as Platoon, or as smart as Full Metal Jacket, but view on its own it has its merits. Of all the films I just mentioned, Full Metal Jacket is probably the one it has the closest kinship to, as it has a similar format of showing G.I.s as they are trained and follows them into the battlefield. It even has R. Lee Ermey in a small role as a drill sergent (though he?s not anywhere near as good as he was in the Kubrick film). Unlike Full Metal Jacket this lacks a consistent tone, I think it struggles to decide whether it wants to be a satire or a straightforward war film, if it?s trying to be the later it probably doesn?t work to great, if it?s trying to be the former it works better but it?s not as good as other anti-war films of the era like M*A*S*H or Catch-22. I didn?t really find the characters overly interesting and the story is a pretty standard ?tour of duty? type thing. I felt like the movie was really treading water for most of its runtime, but then came the film?s climactic propaganda soccer game. At first this scene seemed really silly, but it eventually developed into a pretty smart allegory for the war itself, and that in many ways redeemed the film for me.
½
"Boys" follows five young men from their intensive boot camp training and through 1968 Vietnam among inept leaders and corruption of South-Vietnamese allies. The film belongs to the first wave of worthy Vietnam dramas trying to come to terms with America's outcome of the war and is a preamble to Kubrick's Full Metal Jacket, to include the great R. Lee Ermey doing what he does best. Choppy directing still turns out some very fine performances by very good actors.
El Hombre Invisible
Super Reviewer
The Boys in Company C Quotes
There are no approved quotes yet for this movie.