The Bride With White Hair 2
(1993)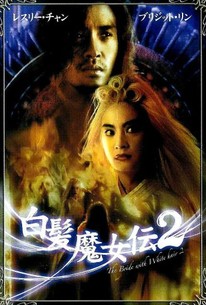 AUDIENCE SCORE
Critic Consensus: No consensus yet.
The Bride With White Hair 2 Photos
Movie Info
Editor and co-writer of the original, David Wu Tai-wai directs this follow-up to the wildly popular romantic fantasy-horror masterwork Bride With White Hair. The last film ended with Cho (Leslie Cheung Kwok-wing), following the defeat of the Wu Tang clan, waiting atop the snowy peak of mount Shing for a rare flower to blossom and heal his ailing lover. Ni-chang (Brigitte Lin Ching-hsia), feeling spurned by Cho thanks to the evil doings of a pair of Siamese twins in the previous movie, has morphed into a demon with a head of white poisonous hair. She creates a cult dedicated to her hatred of men, vowing to kill every member of the Eight Clans of Chung Yuan. Among them is Fung Chun-kit (Sunny Chan Kam-hung), Cho's cousin who is in love with the beautiful Lyre (Joey Maan Yee-man). On their wedding night, Ni-chang, Ling (Christy Chung), and a number of other disciplines crash the party and kidnap the bride. Back in their lair, they slowly turn Lyre against her would-be groom.
Critic Reviews for The Bride With White Hair 2
There are no critic reviews yet for The Bride With White Hair 2. Keep checking Rotten Tomatoes for updates!
Audience Reviews for The Bride With White Hair 2
I think this film would have got better reviews if it had been called something else. The problem is Ronny Yu made a great, almost perfect film with the original Bride and this has rather a rushed feel to it. The epic, mythological feel of the first film has been replaced by something else and Brigitte Lin has no real space to develop the tragic character until right at the end when she is reunited with Leslie Cheung in a not exactly happy ending, if perhaps fitting. But the photography is wonderful and Sunny Chan is, in my opinion, a better actor than some give credit for. Joey Man does what she is there for and provides the eye candy and some nudity. They are supported by the great Helena Law Lan and Christy Chung plays it for fun and dies a suitably tragic death. This is much bloodier than the first film and the feminist, even lesbian overtones are too obvious at times. The kung fu and sword play is minimal but I sat through the film really enjoying it and if you don't consider it a sequel then it is still better than many other films.
Cassandra Maples
Super Reviewer
Good explosive martial arts and superb fantasy sequences in this Hong Kong epic film with the return of Brigitte Lin (as the evil title) and Leslie Cheung.
Dean McKenna
Super Reviewer
The Bride With White Hair 2 Quotes
There are no approved quotes yet for this movie.