The Bride Wore Black
(1968)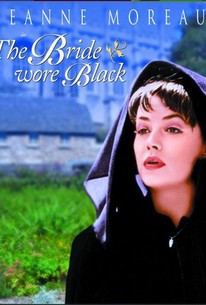 The Bride Wore Black Photos
Movie Info
Julie (Jeanne Moreau) is the young widow who seeks revenge for the death of her husband. She targets her victims for demise and sets out to knock them off one by one. The first victim is pushed from a balcony, the second is poisoned in his own home. She poses as Diane the Huntress and shoots the artist with her bow and arrow. A pretentious man is locked in a closet and sealed off to die. Julie willfully confesses her murders to a priest who is helpless to break the silence by his religious vows of the sanctity of confession. When the last man is found to be locked in jail, Julie conspires to get herself arrested to gain access to the unfortunate prisoner.
Critic Reviews for The Bride Wore Black
Audience Reviews for The Bride Wore Black
½
Truffaut making a film as an homage to Hitchcock is inherently interesting, since they were both such legends. This story is about a young woman (Jeanne Moreau) who was widowed on her wedding day when her husband was killed accidentally by five guys messing around with a rifle; she then seeks to kill them one by one, in revenge. She does this in some pretty unbelievable ways unfortunately, though the way she goes about the killing at the end was creative and a nice touch. Moreau is captivating, the dialogue is fun and in keeping with 1968 France, and Truffaut is a master at capturing great shots - but I have to say, he didn't match Hitchcock in creating tension or emotional drama, so this film ends up being a bit 'too cool', and thus falls short. It's certainly worth watching if you like these directors though.
Antonius Block
Super Reviewer
Made it on my favorite list tens minutes into the film. The advertising team made a great decision to put full frontal nudity in the trailer. I always thought that was considered taboo in the 60's. This is the film Quentin Tarantino ripped off to make Kill Bill. He claims never to have seen it but I say otherwise. This film is unpopular so there is a chance that he hasn't. But it is ironic that the plot of this is a bride going around killing people for revenge, it's the exact same plot as Kill Bill. This film is a homage to Alfred Hitchcock who is one of Quentin's inspirations. So maybe that's why there both similar, just maybe. I find it hard to believe that Quentin is an Alfred Hitchcock fan yet hasn't watched a film that was inspired by Alfred. Overall this is one cool film. If you liked Kill Bill then watch this as well. It's not as violent as Kill Bill but it's still entertaining. The plot was okay. People say that this film has a big plot hole. That plot hole being, how did she find the men? She herself answered the plot hole. She said it took her a long time but she managed. Hello people, ever heard of phone books and public registries. There are ways to find people that you know nothing about. The men where staying at a hotel so she could have just gone to the hotel and got there names they signed with. Moving along, the writing was okay. I didn't like the scene at the beginning with the two guys. All they where talking about is women. It had nothing to do with the story and contributed nothing so that part should have been taken out. Other then that the rest of the dialogue was great. I really enjoyed reading the movie. The acting was really good. You could really get into the characters minds and feel there suffering. That's something I didn't feel in Kill Bill. The direction was superb by the same director of The 400 Blows. The camera angles where great. They used the camera angles I like because if a film doesn't have the camera angles I like then it does take away from the experience. This is probably the longest review I have ever written. It just goes to show you how much I love this film. If you are a fan of Alfred Hitchcock and foreign films then this is the perfect film for you.
Eduardo Tobias
Super Reviewer
½
Stylish revenge thriller by François Truffaut, who I think was rather too ponderous, subtle and out of his element everytime he tried to get into Hitchcock territory; but with the macabre Bernard Herrmann in the music, and the sophisticated and calm Jeanne Moreau; he had winning aces.
Pierluigi Puccini
Super Reviewer
The Bride Wore Black Quotes
There are no approved quotes yet for this movie.