La demoiselle d'honneur (The Bridesmaid)
(2004)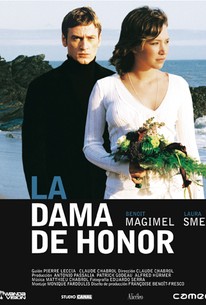 La demoiselle d'honneur (The Bridesmaid) Photos
Movie Info
The master of French suspense joins forces with the queen of English suspense fiction for this tense tale of the treacherous love affair between a disturbed bridesmaid and an unsuspecting young man. Philippe (Benoit Magimel) lives in a quiet French town with his hairdresser mother Christine (Aurore Clément) and two younger sisters. Soon after the news breaks about a local girl who has mysteriously vanished, Philippe's mother introduces her children to Gerard (Bernard Le Coq) -- a local businessman who may have matrimonial intentions toward the attractive beautician. Soon after receiving permission from her children to present Gerard with a sculpture of a woman's head that had previously adorned the family garden, however, the elusive beau seems to disappear without a trace. Philippe is intent on recovering the captivating piece of art, and after stealthily recovering it in a clandestine mission he places it in his closet without telling the rest of the family. Later, at his sister's wedding, Philippe meets attractive bridesmaid Senta (Laura Smet) and passion between the pair quickly ignites during a stormy seduction. A model and aspiring actress who lives alone in a massive villa inherited from her father, sultry Senta may be physically irresistible, yet she also seems to have a few morbid preconceptions about life, love, and death. As the affair between the pair grows increasingly heated, Philippe at first takes her request to murder a stranger as a means of proving his love as a joke. The more he gets to know her the more that it appears that Senta is in fact deadly serious about her dark request. ~ Jason Buchanan, Rovi
Critic Reviews for La demoiselle d'honneur (The Bridesmaid)
Audience Reviews for La demoiselle d'honneur (The Bridesmaid)
This is a solid movie with a good, and twister, story. Problem lies in the fact that the film takes too long to get to the point. The movie does give you hints here and there that Senta is a narcissist and psychopath that is not to be trusted. I do think there's something here with Phillippe sort of denying all these negative qualities about Senta just because he's, really, in lust with her. I don't think for one second that they loved each other. If there's one thing I like about the film is that the suspense itself isn't over-the-top, the suspense itself is realistic, it's quiet and restrained. That's both a negative and a positive in the film, because while the suspense itself is more believable as a viewer, it can also mean that the film seems like it's going nowhere most of the time. Though I did like the surprising amount, not a lot, of comedy. It isn't anything outstanding or hilarious but it is appreciated. The acting is strong, so I can't complain about that. Anyway, this is a good movie. It just so happens that one of its strengths is also one of its main flaws.
Jesse Ortega
Super Reviewer
This is probably going to be the last French movie I ever watch. I didn't really like it. I'll stick with the movies in Spanish, I think those are better. This movie was really like anti-climatic? I guess is the word I'm looking for. Nothing amazing or spectacular happens and you don't see anything happen either. The movie is about a boy and a girl who fall in love- like hardcore love- within a few hours. After like a 1 day relationship they are inseparable and fucking each other every night. The girl is obviously a freak because she talks nonsense and makes up a bunch of stories (which we never find out if they are true or not) like her past jobs, her family life, etc. After a week of their relationship they are madly in love and the girl tells him that he needs to kill someone to prove his love to her. He's caught off guard and laughs it off like it's a joke. Later, he picks up the paper and sees someone was murdered, so he tells the girl he's the one that killed the dead guy (even though he really didn't). She believes him and is oddly fascinated with the murder and wants to know every detail. After she sees he "killed" for her, she decides to do the same and actually goes through with it. Then she tells him she murdered someone else a while back and still has the body, so she's got issues. The movie ends once the boy finds out about the murders, and he realizes their both in deep shit. The movie doesn't have many settings, which was boring for me. The movie mainly took place in the girl's apartment and the boy's house. I really needed a change of scenery because it was getting so boring seeing them in the same places. I guess that's kind of irrelevant, but it made me dislike the film even more so than I already did. The characters really annoyed me. The girl obviously is a schizo or has some kind of mental disorder, and the boy probably does also. He falls so hard for the girl and fucks her before he even really knows her name, then he sleeps with a stone statue and....it's weird. He seems to have a solid head on his shoulders at the beginning, but after he meets the girl he does a complete 180. Anyway, I really didn't like this film mainly because there was no action and there were a lot of questions that probably should have been answered, but weren't. You realize the girl is a psycho, but you never know any of her history it's all a mystery. Everyone the boy asks about her gives sketchy/hazy information, so we're never sure just what her story is. Then at the end, the boy sees the person that the girl killed weeks prior, and tries to get the girl out of the house. The girl however, doesn't want to leave and they go lie down on the bed in the basement where they hear the cops knocking on the door. The movie ends as the boy tells the girl "I'll never leave you". Pretty sappy/boring/disappointing ending ever. I wanted to know what happened afterwards, but the movie ended quite abruptly. I respect what the director was trying to do here, but I kind of hated this film. 90% is way overrated, maybe I just can't appreciate the psychological thriller he was attempting to create, but there was nothing thrilling about it.
To say that Senta (Laura Smet) is obsessed is like saying that the Antarctic is cold. Just a slight understatement. Philippe (Benoit Magimel) meets the lovely and sensuous Senta at his sister's wedding. The two begin a torrid affair and the attraction proves more powerful than the common sense that Philippe finds so successful at work. A small fiction convinces Senta of his love for her, so she returns the favor. However, the fallout from these actions threatens to destroy them both. Well done, if slightly demented. True love is never easy, but this darkened version is harder than most. Side stories about the downward spiral of Philippe's little sister, his mother's attempts to keep up a cheerful facade as her life and family slowly disintegrate, and his duties at work keep this from slipping into a total eclipse. Obsession, however, is the driving force and travels on a two-way street.
Mark Abell
Super Reviewer
La demoiselle d'honneur (The Bridesmaid) Quotes
There are no approved quotes yet for this movie.