The Brink's Job
(1978)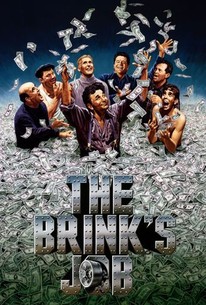 Movie Info
A handful of bumbling crooks pull off the heist of the century in spite of themselves in this blend of comedy and action. Tony Pino (Peter Faulk) is a small time crook whose attempts to stage large scale robberies have a habit of going very, very wrong, and he fares better at running a diner and fencing stolen radios than making a living as a thief. However, while casing out a Goodwill office with his brother in law Vinnie (Allen Goorwitz) in hopes of robbing the safe, Tony notices the Brink's Armored Car Company's building near by, and starts to wonder how hard it would be to break in. The more Tony investigates, the more he discovers the security at Brink's is more a matter of reputation than intricate design, and that getting in after hours would be within his abilities. Tony assembles a crew of thieves -- clumsy Vinnie, sharp-dressing bookie Jazz (Paul Sorvino), money launderer Joe (Peter Boyle), fast-talking but edgy Specs (Warren Oates), funny man Stanley (Kevin J. O'Connor) and nice guy Sandy (Gerard Murphy) -- and together they pull off the biggest cash robbery of their time, walking away with $1.5 million. But stealing the money is one thing -- keeping their mouths shut and not going crazy as they wait for the statute of limitations to run out on the job is something else. Also starring Gena Rowlands, The Brink's Job was inspired by the real life robbery of the Brink's company's Boston headquarters in January 1950; as the ends credits note, at the time of the movie's release in 1978, it was the only successful robbery of a Brink's company building, though a Brink's armored car would be ambushed by thieves in Nanuet, New York in 1980.
Critic Reviews for The Brink's Job
Audience Reviews for The Brink's Job
Fun heist film (from the director of the Exorcist??) with a fine cast of underrated actors.
Anthony Valletta
Super Reviewer
Uninteresting & not funny
The Brink's Job Quotes
There are no approved quotes yet for this movie.