The Brother from Another Planet
(1984)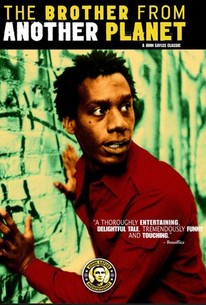 TOMATOMETER
AUDIENCE SCORE
Critic Consensus: Featuring director John Sayles trademark humanity and an expressive performance from Joe Morton, The Brother from Another Planet is an observant, dryly comic sci-fi gem.
Movie Info
Filmmaker John Sayles' first bonafide box-office success, Brother from Another Planet centers on a black escaped slave from a faraway planet (Joe Morton) who finds himself on the mean streets Harlem. Though the locals are put off by the slave's inability to speak, they are won over by his technical wizardry. He is adopted as a "brother" by his new friends, who protect him from pursuing white aliens played by director Sayles and David Strathairn.
Critic Reviews for The Brother from Another Planet
Audience Reviews for The Brother from Another Planet
½
"Brother From Another Planet" is not an important film or one that should even be sought out. But it's clever, well-made, and well-written, and if you have the time to watch a good movie, you've got my recommendation.
Stephen Earnest
Super Reviewer
½
Many will be discouraged to watch Brother From Another Planet simply because of the movie's premise and title. I'll admit that it doesn't exactly sound interesting, but if you're a fan of John Sayles, this is sure to be a delight. The Brother (the silent lead character played by Joe Morton) is a walking metaphor. That much you can pick up on from about ten minutes in. But what exactly is he a metaphor for? Does he represent the slavery of the African-American race? Or does he truly represent an alien, in the most realistic sense of the word? Maybe he stands for both. But he's the good guy here, and despite his stoic nature, you learn to like him. Joe Morton does a great job in the role, really capturing as much of the emotion of the character without ever actually saying a word. It's pretty magical. The plot develops as you would expect it to. This Brother is here to help and he can work wonders, almost Messiah-like. It all sounds pretty cheesy, but to watch it all unfold on the TV is something else. It's got some great scenes in it and the camerawork is great. I just liked the whole style of it in general. These kinds of low-budget films always seem to get to me. By the way, did you know that John Sayles financed this movie with some of his MacArthur Fellows 'genius' grant? Did you know that he was one of the few to be selected for that award? I mean, come on. That's pretty impressive. The only problem that I had with Brother From Another Planet is that it became more preposterous as it went along. But it didn't do this at once, like go from 'normal' to 'crazy' with a single action. No, it builds slowly over the last half hour or so until it all just explodes in a ridiculously choreographed action scene. That's when I sort of lost interest. But thank God it was close to the end. By saying this, I'm not at all dissing John Sayles. I think the man's a fabulous filmmaker, and Lone Star is really the only film of his that I've seen. I just think he could've patched the ending up a little bit better. Things would've been a little more enjoyable than they were, and that's why I didn't like Brother From Another Planet as much I wanted to. Part of me was saying 'Man, this is cool', while another part was going 'Seriously, man? This is ridiculous.' But hell, I don't care. Watch this film. If you think it's stupid, turn it off. But try not to. Even if it bores you, just try to get interested. Who knows? Maybe you'll learn something.
Stephen Earnest
Super Reviewer
½
I liked it better than Starman. It wobbles a bit at the end, but overall it's both solidly funny and interesting.
Ken Stachnik
Super Reviewer
The Brother from Another Planet Quotes
There are no approved quotes yet for this movie.