The Bunker
(2004)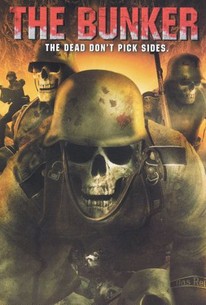 Movie Info
Rob Green makes his feature debut with this moody horror flick about war, paranoia, and unspeakable evil. As the Allies close in around the Nazis, pounding them with relentless air strikes, a band of Germans takes refuge from the onslaught in a concrete bunker deep in the Black Forest. Long-forgotten tunnels extend from the bunker, further into the wilderness. Shell-shocked and exhausted, the survivors argue about provisions and strategies during a lull in fighting. As they slip into sleep, the horrors, murders, and plagues that rocked Europe for centuries seep into their souls. When the next wave of attacks threatens to blow them to smithereens, the war-weary group ventures deeper and deeper into the tunnels as they combat fear and insanity. Jason Flemyng, Charley Boorman, and Andrew Lee Potts star in this film which was screened at the 2001 Toronto Film Festival. ~ Jonathan Crow, Rovi
News & Interviews for The Bunker
Critic Reviews for The Bunker
All Critics (5) | Top Critics (2) | Fresh (4) | Rotten (1)
While The Bunker is never outright scary, it definitely has its fair share of moments that are creepy and unnerving.
Call it "Saving Private Ryan" meets "The Amityville Horror" or "Platoon" meets "Session 9."
The film offers more mayhem than suspense and does not really work beyond the "something scary in the dark" level.
Audience Reviews for The Bunker
½
Maybe not the strongest example of this sort of thing, but certainly a watchable entry into the "Supernatural shit happens in an underground Nazi bunker" subgenre which very clearly exists.
½
This was a very eerie movie and well written.
Barry Lappin
Super Reviewer
½
I'm not a fan of horror films; their lame Twilight Zone concepts, cliched directorial tricks and lack of humour just irritate. This film is no exception; it takes itself far too seriously, and has the usual failing lights, bumps in the night and frantic running around corridors. But it's atmospherically shot, has an unusual setting and Jason Flemyng is pretty good in the lead. And at least it doesn't end on some feeble CG monster...
The Bunker Quotes
There are no approved quotes yet for this movie.