The Cabinet of Dr. Caligari
(2006)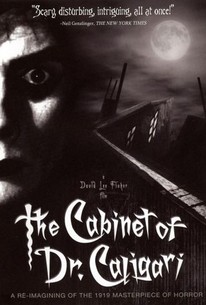 The Cabinet of Dr. Caligari Photos
Movie Info
Bay Area digital-effects wizard David Lee Fisher offers an enticing visual remix of the 1920 German expressionist classic with this innovative updating that places contemporary performers against scanned backdrops of the original and offers a detailed new script to create an exciting new vision. As the annual fair descends upon the sleepy burg of Holstenwall, Germany, Francis and his best friend Alan are unwittingly enticed into attending an exhibition by malevolent hypnotist Dr. Caligari that will have a sinister, life-changing effect on the pair. When the dreadful doctor awakens psychic sleepwalker Cesare (Hellboy's Doug Jones) from his profound slumber to predict Alan's future, the resulting prophecy is endlessly more terrifying than the frightened friends could have ever imagined. In the days that follow, the citizens of Holstenwell fall prey to a grisly series of unsolved murders that prompts Francis to launch a thorough investigation. With the killer fast closing in on Francis' unsuspecting fiancée Jane, the brave husband-to-be must uncover the secret of Dr. Caligari's strange powers before his one and only love suffers a particularly grim fate.
Critic Reviews for The Cabinet of Dr. Caligari
Audience Reviews for The Cabinet of Dr. Caligari
The Cabinet of Dr. Caligari is an interesting, though unexceptional film. The faults other viewers have noted are there, though I am more forgiving and consider that the acting, for instance, can work as part of the odd vibe of the film. The sets are very interesting to look at. The only serious flaw was the sound, which was quite poor. Viewed as a sideshow (and not a main attraction), the Cabinet of Dr. Caligari is fine.
Robert Brogan
Super Reviewer
very very interesting and creepy
Morgan Salem
Super Reviewer
The Cabinet of Dr. Caligari Quotes
There are no approved quotes yet for this movie.