The Candy Snatchers
(1973)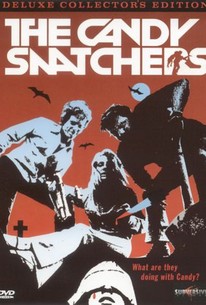 The Candy Snatchers Photos
Movie Info
A gang of ruthless but inept kidnappers pull off a crime with startling and unexpected consequences in this tough, nervy thriller which has won a cult following. Candy Phillips (Susan Sennett) is a sixteen-year-old student at an exclusive private Catholic school who, while walking home from school, is suddenly dragged into a waiting van that quickly speeds away. Candy has been kidnapped by an unlikely team of criminals -- pretty but hard-edged Jessie (Tiffany Bolling), her psychopathic brother Alan (Brad David), and Eddy (Vincent Martorano), a misfit Army veteran who only wants to own his own bowling alley. Jessie and her cohorts have learned that Candy's father Avery Phillips (Ben Piazza) is the manager of an upscale jewelry store, and after burying Candy in a coffin-like box on the outskirts of the desert (with a pipe for ventilation), they send Avery a message informing him they'll release Candy in exchange for 500,000 dollars in jewels. However, come the next morning, Avery has failed to respond to their demands, and an attempt to coerce payment from him leads to the discovery he has no intention of rescuing Candy. The Candy Snatchers was the only directorial credit for television writer Guerdon Trueblood; his young son Christopher Trueblood (billed as Christophe) appears in the film as an autistic child who happens upon Candy and tries to help.
Critic Reviews for The Candy Snatchers
Audience Reviews for The Candy Snatchers
Excellent, sordid, exploitation crime shocker. Made in the same vein as teh far inferior Last House on the Left, this rises above the genre to be a well acted, nicely paced nihilistic film with a great story involving kidnapping and double-crosses. The opening song claims again and again, "Money is the root of all happiness" and this film does it's damndest to prove it wrong. Slimeball characters discard any morality to get what they want. Granted there is a sympathetic character or 2, but even they are very flawed. An excellent film that I'm very happy has been pulled from the underground and has been given a mainstream release.
Christopher Brown
Super Reviewer
Fairly benign exploitation fare with a hilarious, bizarre performance by the young boy in the film.
The Candy Snatchers Quotes
There are no approved quotes yet for this movie.