The Canterbury Tales
(1971)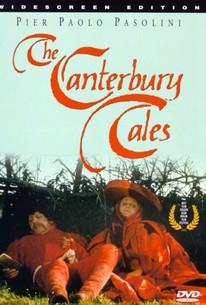 The Canterbury Tales Photos
Movie Info
Italian director Pier Pasolini tells four of the Chaucer tales in this graphic and satirical picture that chronicles the 14th-century's social, sexual, and religious standards in England. In Pasolini's Trilogy of Life, this second entry follows The Decameron and precedes The Arabian Nights.
Critic Reviews for The Canterbury Tales
Audience Reviews for The Canterbury Tales
This movie is second of Pasolini's so called 'Trilogy of Love' (Il Decameron, I Racconti di Canterbury, Il fiore di mille e una notte; 1970-1974). All these movies are quite specific, there are said not to be that provocative or intriguing. They are greatly influenced by the fact that while directing them Pasolini was contented because of his intimate relationship with the 'innocent barbarian', actor Ninetto Davoli. It is also said that in 'Trilogy of Love' Pasolini became resigned to the present time world by escaping to the past. However I don't think it's true. In these movies, Pasolini introduces to the audience an incorrupt world where people don't care about 'material aspects of life', they try to live at the full stretch, they seek love and, of course, sex and they do not respect 'the repressive limits imposed by religious and bourgeois morality' (Gino Moliterno). This is probably why Pasolini later declared that these three films were most ideological of his career (in his famous and long interview with Massimo Fini). I suppose Pasolini tried to confront such 'primitive' world with the world he had lived in and which he had hated so much (this confrontation is present all the time, especially by the contrast between the love and the death, by the contrast between the first tales, in which the human naked body dominates, and the last two tales in which pursuit of money causes death and perdition. Because of such end it is also suggested that I Racconti di Canterbury are very close to Pasolini's disillusioned last movie, Saló). It is common to hear that Chaucer must have rolled over in his grave after this movie was released. But if you try to understand The Canterbury Tales in the context of Chaucer's attitude towards love in his (other) literary works, you will probably find that Chaucer would resemble to Pasolini alias Mr Chaucer ends the film with writing 'Here end the Canterbury Tales, told for the mere pleasure of their telling, Amen'.
Cassandra Maples
Super Reviewer
The Canterbury Tales Quotes
There are no approved quotes yet for this movie.