The Canyons
(2013)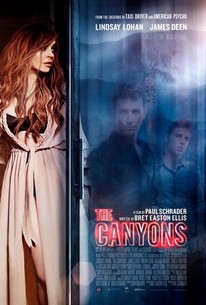 TOMATOMETER
AUDIENCE SCORE
Critic Consensus: Oppressively misanthropic and ineptly made, The Canyons serves as a sour footnote in Paul Schrader's career -- but it does feature some decent late-period work from Lindsay Lohan.
Movie Info
While calculating young movie producer Christian (Deen) makes films to keep his trust fund intact, his actress girlfriend, Tara (Lohan), hides an affair with an actor from her past. But Christian becomes aware of her infidelity, which leads the young Angelenos into a violent, sexually-charged tour through the dark side of human nature. (c) IFC
News & Interviews for The Canyons
Critic Reviews for The Canyons
Audience Reviews for The Canyons
½
Apart from Lohan, almost everyone else in the cast is just lame (Deen should stay in porn) and has to deliver some ridiculous exposition amid an atmosphere of cheap soft-porn - and nothing can justify the combined talents of Schrader and Ellis leading to this pointless bore.
Carlos Magalhães
Super Reviewer
Lindsay Lohan continues to flush her career down the toilet with the trashy, exploitation film The Canyons. Dealing with themes of sex, control, and obsession, the story follows a film producer and his girlfriend as they have sexual liaisons with others. Lohan stars opposite porn star James Deen, and they both give bland, uninteresting performances. And while stuff happens in the film, there's no real semblance of a plot. Despite its provocative nature, The Canyons is a mundane and pointless film.
Dann Michalski
Super Reviewer
** I was reading Entertainment Weekly this past weekend when I came across a review for "The Canyons". They gave it a B+ and I had never heard of it. Sunday evening I was looking for something to watch, came across it and figured I'd give it a chance. It stars Lindsay Lohan as a yoga instructor who has a volatile/crazy sexual relationship with a producer played by James Deen. He becomes obsessed when he thinks she is cheating on him and things escalate from there. It's a thriller, that offers no thrills, well except to see Lohan naked through a lot of the movie. This is basically a notch above softcore porn's you see late night on Cinemax. Lot of nudity, some sex, and a whole lot of bad acting. It does have one of the weirdest sex scenes I've ever seen in a movie, as a foursome. Lohan probably is the best thing about the movie here. but even she does horrible. Deen has 2 facial expressions, bored and a smirkish pout. Plus, the way the movie ends is pretty stupid. They probably could have done some cooler stuff with the way Deen's character goes crazier and crazier, but they don't. It's an hour and a half that drags a lot, just feels too slow. I give it 2 stars for Lohan's two best assets, but other than that this is a complete skip. If EW gives this a B+ I'd really hate to see what their version of an A is.
Everett Johnson
Super Reviewer
The Canyons Quotes
There are no approved quotes yet for this movie.