The Car
(1977)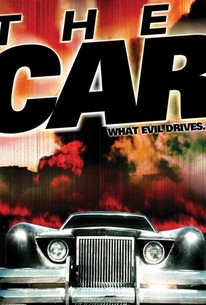 Movie Info
A killer car, fueled by demonic power, runs amok through the Detroit streets in this horror film.
Critic Reviews for The Car
Audience Reviews for The Car
½
It took three screenwriters (Michael Butler, Dennis Shryack and Lane Slate) to postulate the malevolent sentience of a motor vehicle? Anyway, The Car is a subglacial, moronic jalopy that doesn't benefit from turgid family squabbles. Stephen King's Christine knew that the sinister car itself wasn't especially scary. It was the insidious seduction of Keith Gordon that was frightening. The POV of the car is basically a series of tawny color filters. The bridge massacre of two bicyclists is achieved to minimal suspense and overt stupidity. James Brolin, father of the burly Josh, is the chief deputy who obnoxiously tussles with Lauren (Kathleen Lloyd) after an evening of unwedded revelry. Speaking of which, the gregarious domestic scenes with Brolin, Lloyd and his two daughters are unbearably schmaltzy. It might be lax to omit character drama but an abused wife, a recovering alcoholic and a single parent, are all clay pigeons for further bloodshed. The kitchen-sink approach is utilized by Elliot Silverstein to capture the inexorable dread of the Lincoln Continental Mark III's spree (ex. The camera is mounted low near the tire when it screeches to a halt). Regardless, when the sheriff is impaled by the titular car, it looks like he was paralyzed with fear and collapsed instead of collided with. Those who desire hermetic explanations will be chagrined that the car's possessed powers can be chalked up to Satanic manifestation. Of course, that is a vague assumption since no concrete reason is proposed other than an opening quote by Anton LeVay and the fact that is can't trespass on consecrated ground. Lloyd's taunts at the Lincoln are wildly unfunny ("Why don't you get out of that upside-down bathtub?"). The one consolation is the Hal Needham-like stuntwork such as when the car leaps through a residential house's window.
Cory Taylor
Super Reviewer
One of the most bizarre films I've ever seen dialogue-wise. The Car is a bit of a take on the killer car genre, which includes Duel and later Christine. It's halfway decent, if not incredibly boring at times. More time is spent by the characters sitting around trying to figure out what to do and grieving the victims of the killer car than actually building up story, although an attempt IS actually made to do that. It just doesn't work all that successfully. The cutting is quite good when it comes to the action sequences involving the car itself, but most of the time it feels light on excitement. The dialogue itself is just flat out weird and feels out of place constantly. I'm not quite sure what they were going for here or whether they were even aware that the dialogue was odd in the first place, but it IS odd and it sticks out like a sore thumb. The film is scare of blood and gore, but there is some light mayhem, and if you're patient enough to sit through it, you'll find some nice moments and fun action.
Tim Salmons
Super Reviewer
The Car is a pretty good Horror film involving a possessed car terrorizing a small town. This film came a few years after Steven Spielberg's similar Horror thriller, Duel. Duel has been credited of influencing the genre of killer of vehicles. The Car is one of many of these types of films. I enjoyed this film because it had a great deal of suspense and terror. The acting is pretty good considering this type of film. This film has many good things going for it despite the fact that it's not too original. The Car is always on the prowl to terrorize and kill unsuspecting pedestrians. One of the high points of the film is the car's horn, the sound it makes is very memorable and one of the best things about the film. I don't know why I love this film, but I do. I guess I have a soft spot for these types of films and they have a certain appeal to them that makes them worth watching. Even if it's a simple formula of a possessed evil car killing people, it's pretty entertaining to watch. The Car's influence is as I've said Spielberg's Duel, and with that in mind, this film along with Duel probably influenced Stephen King into writing Christine, another killing car story. Every film of this nature follows basically the same thing, but each one are very fun and thrilling to watch. The Car may not be too original, but for fans of Duel, Jaws, Christine \ and The Hearse, you may be well entertained with this possessed four wheeled killing machine. I know I was and I consider The Car a horror classic.
The Car Quotes
| | |
| --- | --- |
| Wade Parent: | Yeah... yeah, ten years of giving out traffic tickets, and all this in one day! |
| | |
| --- | --- |
| Lauren: | Tell me what to do! |