The Cat from Outer Space
(1978)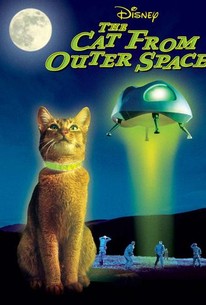 The Cat from Outer Space Photos
Movie Info
Crash-landing in the United States, an alien cat is in dire need of help repairing his space ship, so he enlists the aid of a physicist. Of course, his plan grows complicated when a vet and the military meddle. This Disney sci-fi comedy is appropriate for the whole family.
News & Interviews for The Cat from Outer Space
Critic Reviews for The Cat from Outer Space
Audience Reviews for The Cat from Outer Space
A cat from space needs help getting home? This is one of the many cat movies from Disney, but it' not the best, in fact it may be the worst. Some kids may find it fun, but it's way too silly and stupid, so I'm not sure about that.
½
Still think this is a decent movie. Good ol Disney provides a movie about a talking, telekinetic Cat from outerspace? Cute and kinda funny, kids should still like this movie today. I sure did when i was little.
Chad Roesti
Super Reviewer
½
A straight-forward Disney movie made during the science fiction craze of "Star Wars". I guess they were still doing the effects for "The Black Hole" so quickly threw this one out to try and catch the kids in the hype. It has a very plain story about the military securing a flying saucer, and a cat who needs help from humans to get back to his home planet. Hey! It sorta sounds like E.T.'s plot four years later. There's an interesting game of pool where the cat helps them win with his hi-tech glowing collar. I didn't care for the human characters much, as they were all goofy unlikeable adults. There weren't any kids to identify with in this movie; just the cute little kitty cat, which kind of reminded me of "That Darn Cat!" and Morris from the "9 Lives" cat food ads.
Lafe Fredbjornson
Super Reviewer
The Cat from Outer Space Quotes
There are no approved quotes yet for this movie.