The Cat o' Nine Tails (Il gatto a nove code)
(1971)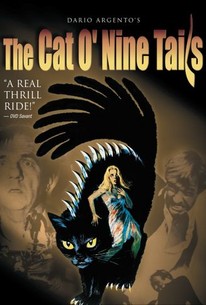 The Cat o' Nine Tails (Il gatto a nove code) Photos
Movie Info
In this flawed mystery-thriller from flamboyant horror director Dario Argento, Karl Malden portrays a blind man who joins forces with a reporter (James Franciscus) to catch a killer with an extra chromosome. Much of the action occurs at a research hospital, where the killer seeks to conceal the original crime with still more murders. Easily the least interesting of Argento's early thrillers (which include the superior L'Uccello dalle Piume di Cristallo and Quattro Mosche di Velluto Grigio), this film seems almost a parody of the genre at times, with preposterous coincidences and bogus Freudian analysis substituting for genuine mystery. Those familiar with the director's work may find it difficult to believe that Argento was responsible, but some undeniable stylistic touches -- such as one victim's wallpaper resembling a blood-splattered wall -- reveal that even a genius can make bad films. Ennio Morricone's soundtrack and a cast including Catherine Spaak and Pier Paolo Capponi offer little relief. The American version is missing approximately twenty minutes. ~ Robert Firsching, Rovi
Critic Reviews for The Cat o' Nine Tails (Il gatto a nove code)
Audience Reviews for The Cat o' Nine Tails (Il gatto a nove code)
Not as memorable as The Bird with the Crystal Plumage but this was the early days when Argento was still trying to find his voice in the Giallo world. It's a bit overlong and the ending is shockingly abrupt (It reminded me of Vertigo) but there's just enough twists and humor to keep it from becoming boring and James Franciscus and Karl Malden play off each other very well.
A.D. Villarreal
Super Reviewer
½
Dario Argento's second film is a fairly underrated Giallo film. Argento has long expressed that Cat O' Nine Tails is one of least favorite films. Yet, this is a solid piece of Italian horror cinema. A film that is thrilling, horrifying and suspenseful. As a second work, Argento would mould and sharpen his skills as a director and along with his debut, The Bird with the Crystal Plumage; Cat O' Nine Tails was just the early horrifying attempts by Argento to create memorable horror films. This is an underrated film, and though Dario Argento has directed far superior Giallo films such as Deep Red, Tenebrae and Opera, Cat O' Nine Tails is still a well crafted film. The cast do a fine job here and the plot is thrilling, suspenseful, and keeps you on the edge of your seat. Dario Argento has made a terrific Giallo film with Cat O' Nine Tails, and it doesn't deserve the hatred it has received. I have to admit that despite this not being the strongest of Dario Argento's films, this is still a must see for fans of the director. Cat O' Nine Tails has enough thrills going for it to appeal to the Argento Connoisseur. Karl Malden delivers a solid performance Cat O' Nine Tails is very well crafted Giallo film, and despite Argento's mixed feeling about his film, this, I think is nonetheless a great film with a wonderful cast, effective story, and plenty of mystery and thrills that is a signature in all of Argento's Giallo's. Everything you'd expect from a great Giallo film is here, and as an Argento fan, I very much recommend it. An underrated film that is better than what critics have claimed it to be.
To be honest, I didn't find The Cat O'Nine Tails to be all that great. I actually found it kind of boring. The signature giallo plot twists are there and there isn't much gore to be seen (as Argento is usually known for), but it wasn't very appealing. I find it interesting to see Karl Malden pop up in a seemingly stripped-down mystery thriller, but it feels more like an American best-of rather than being its own thing. I found The Bird with the Crystal Plumage to be far superior, even though it came first. Dario Argento would go on to perfect the giallo later in the decade, while he felt this to be his weakest effort. I would have to concur with that. It's not terrible, but it's certainly lackluster.
Tim Salmons
Super Reviewer
The Cat o' Nine Tails (Il gatto a nove code) Quotes
There are no approved quotes yet for this movie.