The Cat Returns
(2002)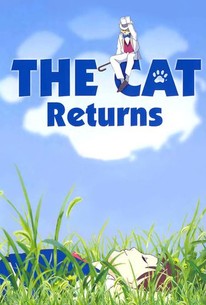 TOMATOMETER
AUDIENCE SCORE
Critic Consensus: Sweetly charming and beautifully animated, The Cat Returns offers anime adventure suitable for the very young and young at heart.
Movie Info
Aoi Hiiragi's manga about a schoolgirl's adventures with a very unusual feline comes to the screen in this witty anime feature. Haru is a girl who one day saves the life of a cat while on her way to school. To her surprise, Haru learns she came to the rescue of no ordinary cat -- the kitty introduces her to the Kingdom of the Cats, where the feline potentate attempts to arrange a marriage between her and his son. Brought into a world he never knew existed, Haru learns a few lessons about herself as he discovers more about the strange and magical secret world of the cats. Neko No Ongaeshi (aka The Cat Returns) was released in the United States with a dubbed soundtrack featuring the voice talents of Anne Hathaway, Andy Richter, Tim Curry, Peter Boyle, and Elliott Gould.
News & Interviews for The Cat Returns
Critic Reviews for The Cat Returns
Audience Reviews for The Cat Returns
½
[img]http://images.rottentomatoes.com/images/user/icons/icon14.gif[/img]
Directors Cat
Super Reviewer
½
Sorta like 'Spirited Away' but with a much more whimsical and playful tone. Very bizarre but effectively endearing personal tale about a directionless schoolgirl who finds her path in life in the most unlikely of places. Filled with laugh-out-loud moments and a weird but memorable cast of characters (The Baron is voiced masterfully by Cary Elwes), it may not be the most original Studio Ghibli film but it is still thoroughly entertaining in it's brisk 72 minute runtime. Even without the two masters involved (Hayao Myazaki and Isao Takahata), the Ghibli crew can still make quality animated films. Side note: This is a spin-off of another Studio Ghibli flick named 'Whisper of the Heart', which was a grounded slice-of-life masterpiece in which it's brief dream sequences featured The Baron. Both 'Whisper of the Heart' and 'The Cat Returns' have no real story connections, so watching 'Whisper of the Heart' is not needed in order to understand the plot (although you should definitely still give it a viewing since it's a criminally underrated near-classic). Plus, watching 'Whisper of the Heart' gives 'The Cat Returns' story a fun context to view it in.
Christopher Heim
Super Reviewer
½
The critical and commercial rapture surrounding Spirited Away introduced a new wave of audiences to the work of Studio Ghibli. This in turn led to a whirlwind of re-releases and the creation of English language dubs of Hayao Miyazaki's back catalogue (some of which were supervised by Pixar's John Lasseter). But even as all this was occurring, films like The Cat Returns were demonstrating that quality animation could still be produced even without the master at the wheel. The Cat Returns is a really great children's animation which, though lighter in both tone and scope than Miyazaki's work, is still gripping, magical and laugh-out-loud funny. In a marketplace dominated by fare which is often depressingly anodyne, it is the equivalent of a stiff breeze that blows through a room after someone has slammed a door. Even in its weaker moments there is more than enough for both children and adults to revel in, and the viewing experience is intensely memorable. If one takes a cursory look at contemporary Japanese and Western animation, it doesn't take long to spot the major factor which divides them. The majority of mainstream Western animation is geared against both childhood and childlikeness. The work of Dreamworks in particular seeks to appeal to adults on a different or higher level, patronising the children watching and asking them to grow up quicker so they can appreciate in-jokes about The Godfather. The progression of the Shrek series from edgy Disney satire to cynical cash cow is ample demonstration of this. Japanese animation, on the other hand, tends to revel in the wonders and magic associated with childhood. It doesn't by and large infantilise its audience, by claiming that everything about childhood is perfect or infinitely more desirable than being an adult. But the characterisation of children, particularly as they undergo some kind of development, feels so much more honest and genuine. Hiroyuki Morita and his affiliates know how to nail that sense of childlike curiosity and fearlessness which is so difficult to find in a live-action performance. The Cat Returns has several clear similarities to Miyazaki in terms of its storyline and its relationship to various works of Western literature. Both this and Spirited Away are to some extent reinterpretations of Alice in Wonderland and The Wizard of Oz, in that they focus on the magical and often surreal adventures of a young girl who gets lost in a world that she does not understand. The anthropomorphism of Alice carries over strongly into The Cat Returns, giving us not only talking cats but talking ravens too. If anything, however, the Oz references are even stronger. The scene of Haru lying in the fields of catkin, slowly drifting off and not wanting to leave, recalls the scene in both the book and the film of Dorothy wilting in the field of deadly poppies. The plot revolves around a deranged and maniacal king with sinister intentions whose physical presence is both intimidating and ridiculous. And as things reach a climax, there are darker and edgier scenes involving decapitation (although, being a U certificate, there is no real violence shown on screen). But although The Cat Returns is by no means the most original story ever told, it does tell its story remarkably well with a very strong moral thread. At the centre of an increasingly bizarre turn of events is a desire of individuals and particularly young girls to define their own path in life, to embrace their own identity and not to base their every decision on the desires or attitudes of others. In the midst of so many films, from Sex and the City to Bratz: The Movie, which promote vapid and soulless views of modern womanhood, here is a film which genuinely embraces female independence without falling into the trap of lecturing its target audience. Quite apart from anything else, the characters in The Cat Returns do not feel like the mouthpieces of a disillusioned feminist champing at the bit. When we are first introduced to Haru, she is a lonely young girl who is subject to bullying at school, has few friends and lives slightly in the shadow of her mother. Her life appears to have little in the way of purpose or direction, save for a fruitless crush on the local jock. Most of us can relate to her predicament - at the very least we have all had a short phase of shyness around others we are trying to impress, romantically or otherwise. As in Spirited Away, the central device of The Cat Returns is a subliminal or dreamlike experience causing or having an impact on the real-world development of the young protagonist. As with so much of Miyazaki's work, if you wrote out the plot of this film and attempted to assess it with a straight face, you won't get very far. The film operates on the same logic that Alice does: everything works, but to explain and rationalise it is to suck out all that is fun and enticing. The journey that Haru undergoes contains a number of bizarre or elaborate developments which threaten to pull the film head-first into outright silliness. If we accept the existence of a cat bureau that deals with all things cat-related and is run by a cat called the Baron, who wears a suit and has a German name, we still have to contend with a secret kingdom hidden through a portal under a lake with its own skewed hierarchy and customs. But for all the moments in The Cat Returns that are absurd or inexplicable, there is an undying focus on Haru's personal struggle which keeps us grounded and allows us to embrace even the strangest goings-on. Having presented us with a relatively complex parallel world, the film could so easily fall into the trap of A Kid in King Arthur's Court, namely pointing out all the differences between the worlds for the sake of a brief gag. But again, Morita holds his nerve, keeping Haru in our frame of mind even during the most outlandish set-pieces. The maze sequence, which contains nods to Jim Henson's Labyrinth, could easily descend into padding to buy the animators time. But instead it becomes an effective way of demonstrating Haru's intelligence and resilience which, combined with self-belief, are the qualities that eventually redeem her. On top of all this, The Cat Returns is genuinely charming and sweet. Morita's designs are warm and inviting without ever becoming overbearing. The colour schemes are full and the smiles wide so that every character seems inviting even if their motives are suspect. There is not a single cat which feels like it was lifted from a stock drawing and plonked idly in the background to make up the numbers, and the final sequence involving Haru walking on the backs of ravens is really something. This level of craft leads to a unified admiration of the film, so that even the bootlicker Natoru is completely adorable. While The Cat Returns is not the finest or most substantial offering to emerge from Studio Ghibli, it deserves undiluted praise for approaching its subject and storyline with such gusto, charm and conviction. It is beautifully animated, has a cast of genuine and believable characters, and a level of laugh-out-loud alacrity which allows us to forgive all but the most obvious moments of contrived sentimentality. In the end it is Miyazaki-lite and won't date as well as Spirited Away, but you would be hard-pushed to find a more entertaining 72 minutes in recent animation.
Daniel Mumby
Super Reviewer
The Cat Returns Quotes
There are no approved quotes yet for this movie.