The Celestine Prophecy
(2006)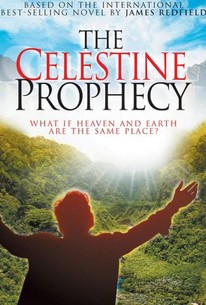 TOMATOMETER
AUDIENCE SCORE
Critic Consensus: Adapted from the bestselling self-help tome, The Celestine Prophesy is indifferently directed and acted, and its plotting is virtually tension-free.
The Celestine Prophecy Photos
Movie Info
In this spiritual adventure, John Woodson tracks down an ancient Peruvian manuscript containing Nine Insights, which hold the prophecy of the modern emergence into the New Age of spiritualty.
Critic Reviews for The Celestine Prophecy
Audience Reviews for The Celestine Prophecy
I don't know why I expect a film adaptation to do a book that I love justice. It's always the same high expectations, falling short. This however, takes bad transfers from page to screen to a whole new low. Based on James Redfield's 1993 bestselling novel it tells the story of high-school teacher John Woodson (Matthew Settle), who undertakes a journey to find and understand a series of nine spiritual insights on an ancient manuscript in Peru, taking him on a spiritual awakening as he goes through a transitional period of his life. Meanwhile, the Catholic Church and government try to suppress the ancient psychological and spiritual beliefs he unfolds, putting his and others' lives in danger. Poor production value, hammy acting and a stifling screenplay. The author James Redfield can't really complain though as he's one of the screenwriters. The book deserved so much more than this. Where it succeeded in capturing your attention and imagination, this succeeds only in putting you to sleep. It's boring and tedious pap and even as a television film it looks cheap. Maybe one day someone will adapt this properly, it's certainly deserving of a better version. Very little, if anything, to recommend it. Fans of the book will only be seriously disappointed and those who haven't read the book will be lost, and will ruin what is a great read. Stay well clear of this turkey.
Mark Walker
Super Reviewer
The Celestine Prophecy has got to be the most boring film ever made. A total waste of time from start to finish. I never read the book, and won't after seeing this trash. But man was this film pointless and lame. I never seen something so crappy. The film has a terrible plot, and worse acting. I here the book is great, but after watching this, I'm not so much interested anymore. I think that the film could have been a good one, but it feels so cheap, and preachy that it's laughable. The cast here are terrible, and theres not really impressive names here. I thought the film was a missed opportunity and maybe, maybe could have been something really good. But instead The Celestine Prophecy is simply a bore fest from start to finish, and you're waiting for something interesting to happen, but it doesn't. The Celestine Prophecy is a waste of Celluloid This film shouldn't have been made and it was a poor execution of a popular book. What The Celestine Prophecy is, is a film that tries to be something spiritual and feel good, but it ends frustratingly painful for the viewer to watch. Finishing watching this film was a chore, and now I can only hope to warn potential viewers that this film simply sucks, and is not worth watching. This is a wasted film that has a stupid, pointless script that doesn't go nowhere. The film fails at being spiritual, and ends up being very cheesy. One of the worst film ever made for sure.
Hokie ideas in an advertisement for new age ideas. I am not enlightened or have the insights to see this even as entertaining. I was often distracted by Matthew Settle because at times he looked exactly like Tom Welling. Hector Elizondo must have had rent due an NEEDED money.... I hated seeing him in the trash. But at least Joaquim de Almeida was not tug, hitman or drug kingpin... good to see him play another type role.
Thomas Johnston
Super Reviewer
The Celestine Prophecy Quotes
There are no approved quotes yet for this movie.