The Cell
(2000)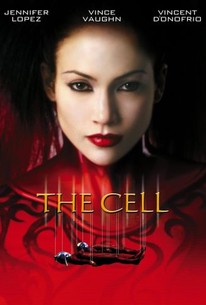 TOMATOMETER
AUDIENCE SCORE
Critic Consensus: The Cell offers disturbing, stunning eye candy, but its visual pleasures are no match for a confused storyline that undermines the movie's inventive aesthetic.
Movie Info
Within the confines of an abandoned rural farmhouse, Carl Stargher, a psychologically disturbed killer has built The Cell, a glass-encased chamber where he drowns his innocent female victims before continuing a sadistic post-mortem ritual with their bodies. As the FBI finally closes in on the killer, he is rendered comatose by a violent seizure and is ultimately apprehended into their custody, but not before leaving his latest victim alive in The Cell with only forty hours to live. Unfortunately, only Stargher knows where she is. Enter Catherine Deane. Deane, a child therapist, is part of an advanced neurological study at the Campbell Center, a research division of a large pharmaceutical company, where she's been using her empathetic abilities along with breakthrough technology to enter into the mind of a catatonic young boy to help bring him back to his loving parents. While FBI agents Peter Novak and his partner Gordon Ramsey follow clues to uncover the missing girl's whereabouts, the FBI enlist Catherine to use her "gift" to embark on an uncharted and perilous journey through Stargher's demented mind.
News & Interviews for The Cell
Critic Reviews for The Cell
Audience Reviews for The Cell
½
It is certainly a gorgeous film to look at but the plot is weakened by the fact that Jennifer Lopez is seriously miscast and not at all convincing as a psychiatrist well suited for her job, especially given how the character's motivations are so unprofessional and confusing in the last act.
Carlos Magalhães
Super Reviewer
½
Visually stunning but thematically scant take on what it would be like to enter another's psyche, in this case a serial (psycho/sexual) killer whose last victim is still trapped in a cell somewhere. Lopez and D'Onofrio are competent as antagonists delivering the drama but Vaughn is very good in this, his least Vaughn-like of roles.
Kevin M. Williams
Super Reviewer
I really do admire Tarsem's The Cell for it's amazing nightmare sequences. However, the hit-or-miss casting and lack of interest make this a lot worse than it theoretically should be. While Jennifer Lopez and Vince Vaughn are fine on their own, this miscasting wasn't beneficial to either of their strengths. Thankfully Vincent D'Onofrio's complete tour-de-force makes the movie as intriguing as it is, making you want to see nothing but a two hour dream sequence with him being bizarre. The visuals are landmarks for their time, mainly because it avoids heavy CGI and focuses on optical illusions. When I think about it, these were some of the best "dream sequences" i've ever seen. They were so visually and stylistically unsettling and surreal.
Conner Rainwater
Super Reviewer
The Cell Quotes
There are no approved quotes yet for this movie.