The Challenger Disaster
(2013)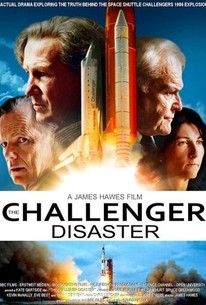 Movie Info
With over 2.5 million parts, the Challenger was the most complex machine that had ever been built. Even with so many potential fail points, Dr. Feynman is confident that the cause of the disaster can be determined. -- (C) The Science Channel
Critic Reviews for The Challenger Disaster
Audience Reviews for The Challenger Disaster
This amazing movie starring William Hurt about Richard Feynman's investigation into the Challenger Space Shuttle disaster of 1986 is a BBC/ Science Channel/ Open University production, and it has everything you want and need for an inquisitive mind viewer! Safely and knowledgeably directed by James Hawes and very smoothly written by Kate Gartside, the film is based on two books: Feynman, Richard; Feynman, Gweneth; Leighton, Ralph (1988). What Do You Care What Other People Think?. W. W. Norton. ISBN 0-393-02659-0 & McDonald, Allan J; Hansen, James R. Truth, Lies and O-Rings. [img] http://upload.wikimedia.org/wikipedia/en/7/70/The_Challenger_Disaster_2013.jpg [/img] The story follows Feynman (William Hurt) as he attempts to expose the truth in the disaster of the space shuttle Challenger. It is a meticulously designed to entertain, educate, excite and deliver mystery and answers. I really enjoyed this quality film which never stops involving the viewer in everything happening around. You have to admire Fynman and his work in the investigation, after watching this movie. It's always hard, to keep everyone's interest when most of the audience knows how it will end, but in this case, it was fascinating to see how much resistance Fynman and other investigators faced during their work for the presidential commission! Quiet, intelligent, good story well told and worth checking out!
½
Very good made for TV film about the infamous disaster, I quite enjoyed this film, and felt that it was a well crafted drama that boasted some great performances from a cast of terrific talent. John Hurt, Bruce Greenwood are two of the most recognizable names and both are terrific in their performances. The film follows what happened after the disaster, the full inquiry and investigation that followed. Well acted, directed and told, I was pleasantly surprised by how well this TV movie was crafted. The Challenger Disaster is one of a select few made for TV films that actually manages to be very good, almost better than big budget Hollywood productions. The way that the film tackles the subject is very well done, and it's told in a way that's very interesting and entertaining. Like I said, the story is good, and is aided by some terrific performances. For a made for TV film, The Challenger Disaster is one of the best that I have seen, and for those interested in the subject, it's definitely a film that is worth seeing. With well constructed tension that goes deep into what happened during the inquiry. The film isn't perfect, but it's nonetheless an accomplished movie, especially for a film that was made for TV. If you're interested in the subject, by all mean, give this one a view, or if you simply want a well acted drama film with a very good story, then this is worth seeing. I really enjoyed the film, and though a bit short, manages to be constantly entertaining. The Challenger Disaster is a very good film, and definitely one of the finest made for TV films that I have seen.
The Challenger Disaster Quotes
There are no approved quotes yet for this movie.