The Change-Up
(2011)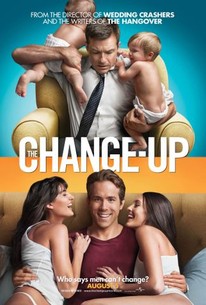 TOMATOMETER
AUDIENCE SCORE
Critic Consensus: There's a certain amount of fun to be had from watching Bateman and Reynolds play against type, but it isn't enough to carry The Change-Up through its crude humor and formulaic plot.
Movie Info
Growing up together, Mitch (Ryan Reynolds) and Dave (Jason Bateman) were inseparable best friends, but as the years have passed they've slowly drifted apart. While Dave is an overworked lawyer, husband and father of three, Mitch has remained a single, quasi-employed man-child who has never met a responsibility he liked. Following a drunken night out together, Mitch and Dave's worlds are turned upside down when they wake up in each other's bodies and proceed to freak the &*#@ out. Despite the freedom from their normal routines and habits, the guys soon discover that each other's lives are nowhere near as rosy as they once seemed. -- (C) Universal Pictures
News & Interviews for The Change-Up
Critic Reviews for The Change-Up
Audience Reviews for The Change-Up
[img]http://images.rottentomatoes.com/images/user/icons/icon13.gif[/img] So it turned out to be funnier than I thought it was going to be. I chuckled a couple times, but it doesn't work on so many levels. It relies on a very unoriginal premise that we've seen countless times before and gross out gags that it too often, and embarassingly proudly, poses as witty and hilarious good humour. Consequently it's simply juvenille and mediocre. The Change-Up is pretty much a post Hangover comedy flick that thinks what made The Hangover as funny as it was meant shouting, swearing, and flinging poo everywhere in our faces. It's lead Jason Bateman is more than capable of taking on comedy roles and he has proven that many times in the past. He's above teeth grittingly low brow films like this. On a positive note, he and Ryan Reynolds are perfectly cast and naturally make a screen couple with comedic timing. Unfortunately that chemistry would have worked so much better if they were together on a project with superior material to offer. Essentialy what they're given is a boring, predictable, forgettable, ocassionaly sweet but ultimately dislikable comedy that has nothing more to offer than a few cheap laughs. It's downfall is due in most part to it's increasingly familiar jokes, that it even at times struggles to duplicate.
Directors Cat
Super Reviewer
½
It's not nearly as funny as it thinks it is, but rather crude and underwhelming considering the talent involved. It could have been much funnier. It's formulaic and far too long. It does have a few (and I mean few) funny parts, but for the most part I was just watching in disgust at what was happening on screen. Leslie Mann gives a solid performance, but this is the same shtick we've seen from Reynolds and Bateman their whole career.
Josh Lewis
Super Reviewer
Like Freaky Friday with a lot more dude humor and tits. I love Jason Bateman and Ryan Reynolds.. I don't think they could have gotten two better guys.
Alexis Nomm
Super Reviewer
The Change-Up Quotes
| | |
| --- | --- |
| Dave: | He never told me you were a big fat fucking boner |
| Dave: | He didn't tell me you were a big, fat, fucking boner. |
| | |
| --- | --- |
| Dave Lockwood: | Sabrina: So, ah, I'll have my briefs on your desk by lunch. Dave: That puts my balls on your chin by dinner. |
| Sabrina: | So, ah, I'll have my briefs on your desk by lunch. |
| Dave: | That puts my balls on your chin by dinner. |
| | |
| --- | --- |
| Mitch: | Ohhh, look at these little.............fuckers! |
| Mitch: | Ohhh, look at these little... fuckers! |
| | |
| --- | --- |
| Mitch: | Cause all Tatiana wants to do at three in the morning is... |