The Chaperone
(2011)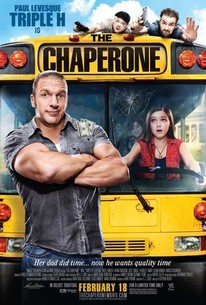 Movie Info
Pro wrestler Paul "Triple H" Levesque stars in this action crime comedy as Ray, a former bank robber who's attempting to start a new life when his criminal past returns with a vengeance. Life on the outside can be tough for an ex-con, so when opportunities prove to be few and far between, Ray's old crew tries to entice him to come back into the fold for one last heist. Ray considers rejoining, but ultimately decides against it -- signing up to chaperone his daughter's class' trip to the natural history museum instead. Unfortunately, when Ray's crew doesn't quite get the message, the bank robbers and the field-tripping students cross paths at the most inopportune times.
Critic Reviews for The Chaperone
Audience Reviews for The Chaperone
½
The film wasn't bad, but it wasn't great either. Triple H is trying to do what action stars have done before, a family film. Like when Arnold did Kindergarten Cop, Diesel did The Pacifier, and The Rock did The Game Plan. Those films were better than this one. They had a good idea for a film here but they didn't execute it correctly. I was expecting better from director Stephen Herek. The tone of the film is off. Some the jokes fall flat. A lot of the supporting cast is miscast. Triple H does the best that he can with what he has to work with. I still like him in Blade Trinity. Ariel Winter was good as his daughter and they have a great on screen chemistry. Yeardley Smith (Lisa Simpson) steals this film.
Ray Bradstone (Paul "Triple H" Levesque) has alot on his plate...fresh out of prison after doing time for some fellow thieving criminals that got away. Now that he is out, one of the cronies want for him to do another score...while he has plans on attempting to clear up his sordid past in his daughter Sally Bradstone's (Ariel Winter) mind, she is consistent in NOT having anything to do with him for leaving the family so many years ago...because he had to got to jail. With all that is going on something happens which forced him to go back in to that dark and hideous life of crime, until he sees an opportunity that happens to turn the tables on him going back down that dark tunnel. Being The Chaperone for his daughter's school trip...which will have you sitting throughout this comedy wondering how or if they will ever mend the broken bridge father and daughter. Truly enjoyable.
Fascade Fiveoneeight
Super Reviewer
A home-run of great genuine laughs and heart. An outragiously funny and heart-warming comedy. Its in the spirit of The Pacifier and Kindergarden Cop. A hilarious joy-ride from start to finish and it only gets better as it goes on. Paul Triple H Levesque is a great surprise in both the comic and dramatic aspects of the character and the film. Ariel Winter is marvelous. Winter and Levesque make the film and the chemsitry work wonderfully. This movie was just fun to watch and has lot going for it. It`s good and clean entertainment.
The Chaperone Quotes
| | |
| --- | --- |
| Ray Bradstone: | You have to Zig instead of Zag. |
| | |
| --- | --- |
| Miss Miller: | Sally it's so nice to finally meet your father. |
| Miss Miller: | Sally, it's so nice to finally meet your father. |
| | |
| --- | --- |
| Ray Bradstone: | I at least deserve a second chance to get to know my own daughter. |