The Charmer
(1987)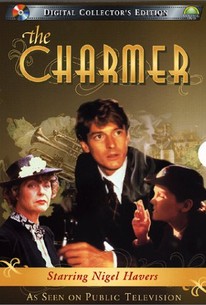 AUDIENCE SCORE
Critic Consensus: No consensus yet.
Movie Info
Starring: Nigel Havers, Bernard Hepton, Rosemary Leach, Fiona Fullerton, David McKail. Based on the novel 'Mr. Stimpson & Mr. Gorse' by Patrick Hamilton. On the surface Ralph Gorse is a charmer in every sense of the word: handsome, suave and stylish, sparkling company and the possessor of a sexual magnetism that attracts most women h e encounters. But the charm is a veneer. Gorse is a con man and sexual adventurer, whose conquests are merely a way of obtaining his heart's desires: money and power. VOLUME ONE Episode One - The Tempter Ralph Gorse, down to his last pennies, meets Joan Plumleigh-Bruce in a roadhouse. She is attracted to Gorse, despite the difference in their ages. But Plumleigh-Bruce has another suitor, the stolid Donald Stimpson, who is attracted by her regular income, her pleasant house and the promise - yet unfulfilled - of sex. Gorse lures the jealous Stimpson into a sordid night at a pleasure house in a scheme of subtle blackmail. Episode Two - The Investor Gorse allies himself with Clarice Mannor's fast socialite crowd and continues to fortify his relationship with the romantically-swayed Plumleigh-Bruce with whom he opens a joint bank account for depositing the promised fruits of their future investments. Stimpson casts a jealous and suspicious eye over their financial and romantic liaisons. VOLUME TWO Episode Three - The Deceiver Gorse flees to Brighton where he finds employment as a car salesman and begins romancing the innocent and lovely daughter, Pamela, of his boss, Harold Bennett. Stimpson's dogged inquiries have uncovered Gorse's whereabouts; and with the swindled Plumleigh-Bruce in tow, he proceeds to Brighton to confront Gorse with the evidence. Episode Four - Gorse in the Middle Gorse marries the pregnant Pamela and settles uncomfortably into married life. Bennett, father of the bride, still suspicious of Gorse's motives, buys the newlyweds a house. The deed is solely in the bride's name, but Gorse has a scheme to turn the tables - and collect the insurance. VOLUME THREE Episode Five - The Imposter Gorse is drafted for military service, but army life is not his cup of tea. He decides not to return from a brief furlough and checks into a fashionable Brighton seaside hotel where he exchanges identities with a drunken R.A.F. officer. Shortly afterward, a corpse is found on the beach bearing Gorse's identity papers. Episode Six - Gorse at the End Plumleigh-Bruce and Stimpson are summoned to Brighton to verify the identity of the body bearing Gorse's papers. Plumleigh-Bruce can't face the gruesome prospect and flees to their hotel where she bumps into Alison Warren, Gorse's latest conquest. Plumleigh-Bruce's story confirms Warren's mounting suspicions. She confronts Gorse with the truth and threatens to expose him. Cornered, he takes desperate measures to escape his pursuers.
Critic Reviews for The Charmer
There are no critic reviews yet for The Charmer. Keep checking Rotten Tomatoes for updates!
Audience Reviews
There are no featured reviews for The Charmer at this time.
The Charmer Quotes
There are no approved quotes yet for this movie.