The Chess Players (Shatranj Ke Khiladi)
(1978)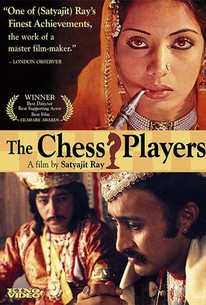 Movie Info
Based on a story by Munshi Premchand, and much influenced by Vsevolod Pudovkin's 1925 film Chess Fever, this satirical film by noted Indian director Satyajit Ray is set in colonial India in 1856. The British Resident of the East India Company (Richard Attenborough) has observed that the monarch of Lucknow, which is in his trading region, seems to be completely uninterested in government. He tries to arrange things so that he can annex the province. Embroiled in a long-running chess rivalry, two local noblemen (played by Sanjeev Kumar and Saeed Jaffrey) cannot be bothered with such minor issues as who is governing whom. Meanwhile, conditions in the kingdom go from bad to worse. ~ Clarke Fountain, Rovi
Critic Reviews for The Chess Players (Shatranj Ke Khiladi)
Audience Reviews for The Chess Players (Shatranj Ke Khiladi)
½
My first film by Satyajit Ray. I was impressed. Excellent director. The story is interesting and funny, even if you know nothing about chess. If you love chess it's a must. Two men play chess all day to the exclusion of everything. When their beautiful chess pieces are stolen they find a way to continue playing. Marvelous twists and turns in the story kept me wondering what was coming next. I'll watch another film by this director anytime.
Morris Nelms
Super Reviewer
½
[font=Century Gothic]With an ending that subtly turns everything on its head, "The Chess Players" is a breezy movie about the serious subject of imperialism. It is 1856 in India where two incredibly wealthy men, Mirza(Sanjeev Kumar) and Mir(Saeed Jaffrey), are obsessed with the game of chess, playing every chance they get and ignoring everything else in their lives, especially Mirza's wife(Shabana Azmi), who is frustrated in more ways than one.(Remember this takes place in the days before video games but the sentiment is the same.) One of the things they are currently ignoring is the local political situation which involves an English general, Outram(Richard Attenborough), playing a real life game of chess. The British government having swallowed up every other piece of India, now has its eyes on the kingdom of Oudh, ruled over by King Wajid(Amjad Khan), which it has long extorted funds from.[/font]
The Chess Players (Shatranj Ke Khiladi) Quotes
There are no approved quotes yet for this movie.