The Christmas Bunny
(2010)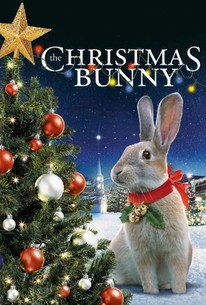 AUDIENCE SCORE
Critic Consensus: No consensus yet.
The Christmas Bunny Photos
Movie Info
A withdrawn foster child makes a Christmas discovery that strengthens her bond with her adoptive family, and makes her a kindly new friend. A lonely child without a family of her own, Julia is elated when she rescues an injured bunny on Christmas Eve. Later, with the help of a kind-hearted farm woman (Florence Henderson), Julia nurses the animal back to health, and realizes the importance of being with the people you love during the most wonderful time of the year.
Critic Reviews for The Christmas Bunny
There are no critic reviews yet for The Christmas Bunny. Keep checking Rotten Tomatoes for updates!
Audience Reviews for The Christmas Bunny
Cynthia S.
Super Reviewer
Everything this movie says about rabbits is WRONG. Where are they getting this shit from? 1) "Rabbits shouldn't eat pellets." Actually yes they should. Hay is low calorie and cannot provide the nutrients bunnies need. Quality pellets (no seeds or fruit in them) are vital to a rabbit's diet. 2) "Pick bunnies up by the scruff of their neck". NOOOOOO! That hurts them so much! Every time they picked that poor rabbit up by his neck I cringed!! That hurts them so much! Didn't anyone else notice the bunny kicking when they picked him up like that?!?! You pick a bunny up with 2 hands! One hand under their tummy (behind their front legs) and the other one supporting their back legs. You scoop them up, you don't YANK them up! God! What the fuck are these people trying to do?!?! Kill it?!?! If that rabbit kicks hard enough he could really hurt himself. 3) "Bunnies can run loose in a house". Uhhh if you live in an apartment yeah sure you can bunny-proof your apartment and let him loose, but definitely NOT in an entire house! That's so dangerous for the rabbit. In Conclusion: The people that made this film know jackshit about rabbit care. To get on with the actual review of this movie.... The characters in this movie are so 2D and shallow. The mother is annoying and can't even control her son- what makes her think she will be able to foster an emotionally traumatized child? The little girl Julia is NOT likable at all. She's a little bitch! The audience can't even feel sorry for her because she's a little brat. Yeah she's been in a few households, but I mean her attitude towards the world is not Christmas like at all. How are we supposed to feel sorry for this girl? She is rude/unfriendly to everyone, she is constantly getting into trouble, she refuses to talk, and she only likes the bunny! It's so weird. The movie isn't about Christmas or bunnies. It's about a dysfunctional girl who lives in a foster family. We never even get that much background information on her. We just know her mother was a crackhead and she's been in foster care for a few months. We don't know why she likes the Velveteen rabbit or what made her so messed up that she can't talk to anyone. We don't know enough about her past to understand her and feel sympathy towards her. This movie has a terrible plot, poor acting and a bad script. Besides those obvious things, the movie is also quite deceptive. The poster for the movie includes a wild rabbit and a Christmas tree which suggests that the movie is about the cute little wild rabbit on Christmas day. The poster is also in a cartoonish/animated style, so one can assume the movie is a fun animated film. However once you actually watch the movie, you will see it is not about Christmas nor about a bunny nor is it animated. It is about a little disturbed girl and her foster family. The rabbit is really only in the movie for about 5 scenes or so. People who say this movie has a "deeper meaning" are simply stupid. You can pretend there is a deeper meaning in this movie, but there is not. It's a shallow piece of shit film that manipulates cute little girls and rabbits in order to make a "family holiday film". I feel like the director of this movie had good intentions about the unfactual information he included in this film. He made it seem like he wanted people to take better care of their rabbits, and it seemed as though he was trying to send a freaking public service announcement to the viewers like "Please take care of your bunnies!" Except all the information in that movie is completely false, so I'm not sure what he was trying to do there. He made ALL bunnies seem like outgoing sweethearts which really isn't true either. I guess this goes back to the whole deceptive thing. Bunnies can be mean and bite hard. Actually most bunnies are really timid and like to keep to themselves. Oh I almost forgot to mention the terrible editing in this movie. In the scene where they have the bunny eating his cecals (which was really gross and unnecessary to mention), they have the poop that just appears out of nowhere in front of the rabbit. And the poop doesn't even look like the poop that rabbits would eat! It looked like grapes to be honest. Then they cut the scene and the poop is completely gone. The rabbit didn't even eat it yet...so where did it go? Editing FAIL. Rabbits were eating their shit throughout this ENTIRE movie! It was so gross! Bunnies are very clean and polite creatures. When they eat their shit, people generally don't notice. They do it in their litter pan not just anywhere. You rarely ever see a bunny eat their shit because they do it so quietly, you never notice. I thought this would be a cute film to watch around Christmas, but it's really not. It's about dysfunctional families, traumatized children and bunny hoarders. You shouldn't watch this movie. Watching my bunny sleeping was more entertaining than watching this sad excuse for a film.
The Christmas Bunny Quotes
There are no approved quotes yet for this movie.