The Christmas Chronicles
(2018)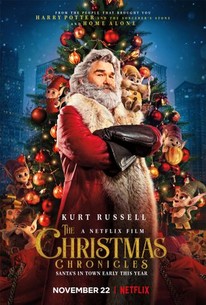 TOMATOMETER
AUDIENCE SCORE
Critic Consensus: Viewers seeking a fresh holiday viewing option -- or those simply in the mood for Santa Kurt Russell -- should find The Christmas Chronicles well worth a yuletide stream.
The Christmas Chronicles Videos
The Christmas Chronicles Photos
Movie Info
THE CHRISTMAS CHRONICLES, a holiday adventure from producer Chris Columbus ("Home Alone", "Harry Potter and the Sorcerer's Stone") and director Clay Kaytis ("The Angry Birds Movie"), tells the story of sister and brother, Kate (Darby Camp) and Teddy Pierce (Judah Lewis), whose Christmas Eve plan to catch Santa Claus (Kurt Russell) on camera turns into an unexpected journey that most kids could only dream about. After staking out Santa's arrival, they sneak into his sleigh, cause it to crash and nearly derail Christmas. As their wild night unfolds, Kate and Teddy work together with Santa - as you've never seen him before - and his loyal Elves to save Christmas before it's too late.
News & Interviews for The Christmas Chronicles
Critic Reviews for The Christmas Chronicles
Audience Reviews for The Christmas Chronicles
½
From Netflix comes the magical holiday adventure The Christmas Chronicles. When Teddy and Kate Pierce try to capture Santa on video they accidentally cause his sleigh to crash, putting Christmas in jeopardy. Kurt Russell leads the cast and gives an excellent performance as Santa Claus. And, newcomer Darby Camp is pretty good too and has tremendous screen presence. However, the writing is a bit uneven; switching from a family comedy to a kid's animated film whenever the elves show up. Also, the animation and creature designs for the elves are really poor; sticking out in the scenes like a sore thumb. Still, there are a lot of fun comedy bits and the Santa Claus mythology is rather interesting. The Christmas Chronicles has its problems, but overall it's an entertaining Christmas film that the whole family can enjoy.
Dann Michalski
Super Reviewer
Having seen a couple of films over the last decades makes you roll your eyes at the "Just be yourself!" speeches and the portrayed sanctity of Christmas and family values. But Kurt Russell is a great Santa and there are charming parts too. I probably would have loved this movie as a kid. It's also a throwback to the kind-hearted and naive event movies from the 80s, they don't make them like this anymore. It's almost Adventures in Babysitting part 2, just with Santa as sitter.
In the spirit on Christmas movies of decades past like The Santa Clause or Santa Claus: The Movie, The Christmas Chronicles is not objectively speaking a good movie. Itâ(TM)s cheesy, forcibly heartfelt, and full of tropes. It is, however, exactly what I needed from a Christmas movie. The only real criticism I have of the movie is the CGI, itâ(TM)s pretty bad. The elves look like they belong in some CG tv special, and the flying sequences on the sleigh are never convincing. Having said that, the elves are still fun, and having big action sequences in a Santa movie is a lot of fun, I just wish they were done better. Everything else the movie does it does well. Itâ(TM)s never very funny, at least not for me, but itâ(TM)s charming as hell and Kurt Russell is extremely charismatic as Santa. Itâ(TM)s one of those movies where you can tell the cast was having a blast making it, and this is especially true with Russell, who is clearly enjoying himself so much itâ(TM)s infectious and Santa is absolutely a character that this works for. This is probably my favorite film take on the Santa character. Heâ(TM)s kind, but stern when he needs to be, and has this loving understanding quality of him. He plays like a lovable Uncle who remembers everything you love, but just for the whole world. Heâ(TM)s also a musician and a badass when he needs to be. Surprisingly the kids are great too. I really thought I would find them grating after a while, but damnit all they work and seeing Santa through their eyes works. Itâ(TM)s dopey, itâ(TM)s campy, itâ(TM)s everything you need from a Christmas movie.
Michael Malan
Super Reviewer
The Christmas Chronicles Quotes
There are no approved quotes yet for this movie.