The Chronicles of Riddick: Dark Fury
(2004)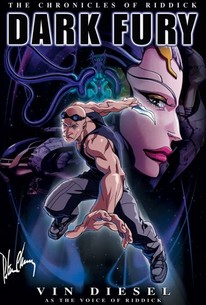 AUDIENCE SCORE
Critic Consensus: No consensus yet.
The Chronicles of Riddick: Dark Fury Photos
Movie Info
The Chronicles of Riddick: Dark Fury picks up where the original Pitch Black left off as Riddick is pitted against a ruthless bounty hunter in this animated prequel to the big-event summer movie The Chronicles of Riddick. Vin Diesel returns as the voice of the mysterious hero, with Keith David and Rhiana Griffith also reprising their roles from the first film. Directed by acclaimed animator Peter Chung (Aeon Flux, The Animatrix: Matriculated), this 30-minute direct-to-DVD feature promises highly stylized action and dynamic visuals that are sure to amaze and delight.
News & Interviews for The Chronicles of Riddick: Dark Fury
Critic Reviews for The Chronicles of Riddick: Dark Fury
Audience Reviews for The Chronicles of Riddick: Dark Fury
Just like the animated spin offs from 'The Matrix' and 'Van Helsing' we were also given a small animated feature showing us the events leading up to The Riddick sequel. This short was a sequel to the original 'Pitch Black' but was it really required?. We see Riddick and the other two survivors leaving the dark planet of the original film. In transit to 'New Mecca' they get captured by some mercs lead by the evil villainess 'Antonia Chillingsworth' (Chillingsworth...chilling, scary huh...get it?) who likes to capture famous criminals and put them on display in her ship. She does this by freezing them basically, freezing them into statues, a bit 'Batman and Robin-ish', a bit cheesy but hey. Now this isn't too old really, its only 2004, but I was amazed at how poor the CGI sequences were. There aren't too many, mainly a few ships, some internal corridors and one or two creatures. But it must be said that they look pretty awful to be honest, really obvious and very plastic looking, quite shocked. The sequences with Riddick's ship look like an amateur did them very quickly, so plain and lifeless!. Other than that the animation is nice n quirky, not overly fantastic but it does the job. Hard to criticise art and animation styles because everything is more so a matter of opinion and of course some styles can be deliberately hokey/simple/rough looking. This style is typical anime style with a slightly surreal edge, the characters are drawn in exaggeration at times, overly defined or amplified if you will. What is nice is the fact all the main characters are voiced by the real film cast to give that extra layer of cannon, coolness and fanboyism. I mean lets face it no one can really replace Vin Diesel as Riddick right. The story ticks along fine, a bit simple but its OK, we see the intro of 'Toombs' which is a minor highlight really, not particularly important but hey its there...a small token mainly for the sequel of course. Overall I found this pretty average really, nothing too special, by the numbers in terms of both animation and excitement. It didn't really need to made in all honesty, it serves no real purpose other than to keep fans happy until the second was released, and does it do that? well maybe I guess. A bit short also I might add but at least it served up plenty of blood n gore which always looks good in these anime adventures. This animation does the odd things a film can't because the bigwigs want a film for the mass audiences, we've all heard that before right, this has more free rein.
Phil Hubbs
Super Reviewer
The premise of Dark Fury is the most intriguing of the entire "Chronicles of Riddick" franchise. Narrowly escaping the creature-infested planet, the escape shuttle carrying Riddick, Jack, and Imam is abducted by a larger merc (slang for mercenary) vessel. Here, Riddick is pitted against a psychotic captain who collects the most evil of criminals, freezing them in a strange form of cryosleep that keeps them awake. Peter Chung of Aeon Flux and The Animatrix fame has crafted a great concept here, with lavish visuals and cool looking animation. Add to that the voices of Vin Diesel, Keith David, and Riana Griffith and it's a shame that Dark Fury isn't a full length feature, or that the entire franchise wasn't animated. Where Dark Fury stumbles is in its lost potential. There are moments here that could have been extended to develop not only Riddick's character but his relationship with Jack and Imam. Not to mention the introduction of Toombs is severely underused. This is due to the short running time. There is enough fighting, an episodic conflict, and a quick resolution to hold interest. But this could have been a great feature length film as opposed to an enjoyable yet underdeveloped and forgettable tie-in between Pitch Black and its sequel.
Edward Boxler
Super Reviewer
½
This 35-Minute animated feature that continues the story directly after the conclusion of "Pitch Black," is a far better entry than the first film in this series, but the story itself is not too interesting to begin with. The story elements that come into play here far surpass what I ever thought could be told. Having the same writer as the last film does not help though, seeing as the same lame jokes and weak emotional moments all come into play. The action is awesome in this short film and the story is just more enjoyable. There is not much to say about it, because it is just a segue into "The Chronicles of Riddick," but there should have been much more of this sort of thing in the first film. It's not a great film, but as a middle-piece, it's a decent movie.
The Chronicles of Riddick: Dark Fury Quotes
| | |
| --- | --- |
| Richard Riddick: | First you're a boy, then you're a girl, and now you're a psychic. Careful what you wish for, Jack. |