The Church (La Chiesa)
(1989)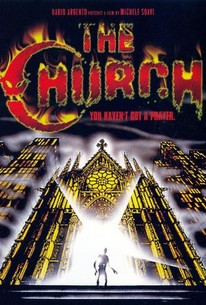 The Church (La Chiesa) Photos
Movie Info
Also known as The Church, this Italian supernatural shocker comes from Dario Argento aficionado, Michele Soavi (the two men wrote the script together) and concerns a cathedral besieged by demons, whose malevolent power is unleashed when a priest deciphers an ancient manuscript.
Critic Reviews for The Church (La Chiesa)
Audience Reviews for The Church (La Chiesa)
The Church was originally going to be part of the Demons series, but it ended up being a totally different film altogether. Directed by Argento protégé. Michele Soavi, The Church is a horror film that relies effectively well on atmosphere to create terror. The film is very stylish, and looks incredible. The story is terrific, and director Michele Soavi keeps the ball rolling by steadily unfolding the terror. This is one of the Dario Argento productions that I have ever seen, and this film is haunting, chilling with hints of the supernatural. The film horrifying atmosphere is elevated by a fantastic score by Keith Emerson & Goblin, credited here as "The Goblins". Dario Argento and director Michele Soavi create a film that is stunning to look at. I've been watching Italian horror for years, and The Church is among the best looking, most atmospheric films that has come along in a long time. This is a true classic, a film that effectively delivers memorable shocks. What really stands out for me, is the way this film looks, the film looks absolutely brilliant. Aided by a good cast, this is one horror flick not to miss out on. The Church is an underrated horror flick that doesn't seem to get the attention it deserves. If you love Dario Argento, then check this one out; even though he doesn't direct it, there's still enough of the maestro's influence to make it live to Argento's own directorial efforts. Director Michele Soavi and producer Dario Argento craft a film that relies on atmosphere and suspense and the harrowing finish is definitely worth it. Ghouls, demons and supernatural elements round out this terrifying memorable tale of chills.
½
Very much an 80's Italian horror film. A little less gore, perhaps. A little long in the tooth.
½
A nice slice of Italian horror from the tail end of its golden years about a Demonic plague which is unleashed from the pit of a Church is modern day Germany. This was meant to be an official sequel to Lamberto Bava's 'Demons 2' but it didn't turn out that way, this one is a bit more restrained and less crazy. After the opening medieval massacre the film plods along without much excitement, but things pick up eventually with some decent gore along the way and a demon sex scene! Good musical score and atmospheric locations also give it a bit of class. A very decent film by Soavi but I didn't enjoy it as much as Stagefright.
The Church (La Chiesa) Quotes
There are no approved quotes yet for this movie.