The Cokeville Miracle
(2015)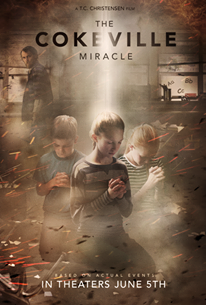 AUDIENCE SCORE
Critic Consensus: No consensus yet.
The Cokeville Miracle Photos
Movie Info
From T.C. Christensen comes The Cokeville Miracle, the remarkable true story of a town facing a terrible tragedy, and the Sheriff's investigator who struggles with his faith as he gathers evidence that defies easy explanation. Cokeville Wyoming, a town of just over 500 people that sits near the Utah-Idaho border, is not known for much beyond it's strong family values, but in 1986 Cokeville made national headlines when a madman and his wife entered the elementary school with guns and bomb. They gathered over 100 children and teachers into a small room, and made a demand: $200 million dollars for the lives of the children-but then the bomb went off... The Cokeville Miracle is not just the story of a hostage crisis, or a terror attack on American soil. It is not just the story of a bomb that could have destroyed an entire generation, and ripped a town apart. The Cokeville Miracle is about what happened instead. How did a bomb that should have leveled the room take only two lives that day, the madman and his wife? Each child, each adult who made it out of that room has a story to tell. Follow the Sheriff's investigator Ron Hartley as he pieces together the evidence, including stories of prayer and divine intervention from multiple witnesses. Gather the evidence and decide for yourself. Do you see coincidence, or do you see miracles?(C) Official Site
Critic Reviews for The Cokeville Miracle
All Critics (3) | Top Critics (1) | Fresh (1) | Rotten (2)
Like a lot of inspirational films, the movie could use a little more subtlety and restraint.

Christensen weaves a few genuinely tense moments into his portrayal of the conditions inside the school, but the narrative faces a huge structural barrier in that the end of the crisis isn't the end of the movie.
Writer-director T.C. Christensen ("17 Miracles") paces the tension of the first half sharply and handles the spiritual message thoughtfully as the lawman wrestles with his faith through his investigation.
Audience Reviews for The Cokeville Miracle
A fairy tale with a character sarcastically named Cinderella (although that's used just once in the film to probably send the message through that we aren't to take it seriously. For the rest of the movie, they call her Cindy which is probably her real name or short one for Cinderella).
familiar stranger
Super Reviewer
The Cokeville Miracle Quotes
There are no approved quotes yet for this movie.