The Collector
(1965)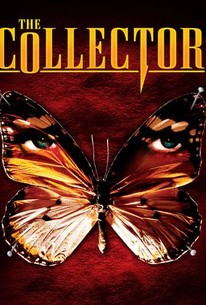 Movie Info
John Fowles's novel The Collector was written in the form of a dual diary, one kept by a kidnapper, the other by his victim. The film is told almost exclusively from the point of view of the former, a nerdish British bank clerk named Freddy Clegg (Terence Stamp). A neurotic recluse whose only pleasure is butterfly collecting, Clegg wins $200,000 in the British Football Pool. He purchases a huge country estate, fixes up its cellar with all the comforts of home, then kidnaps Miranda (Samantha Eggar), an art student whom he has worshipped from afar. The demented Clegg doesn't want ransom, nor does he want to rape the girl: he simply wants to "collect" her. She isn't keen on this, and tries several times to escape. After several weeks, Clegg and Miranda grow increasingly fond of one another, and Clegg promises to let her go. When time comes for the actual release, however, Clegg decides that Miranda hasn't completely come around to his way of thinking and changes his mind, leading to a further series of unfortunate events.
Critic Reviews for The Collector
Audience Reviews for The Collector
You could call this a love story if you wanted to, but it doesn't quite describe William Wyler's 1965 psychological thriller The Collector. It's more about learning about a man who's mind is clearly not stable, and what we find out about him later. The film builds on a tension through the eyes of the culprit and his victim and rarely moves away from that, if ever. Through dialogue and body language, we learn a lot about these two people and we're interested in seeing what becomes of them. A minor complaint would be the film's look. Despite very strong direction from Wyler, the look of the film is pretty sparse and uninteresting. It looks like a television show rather than a film, which is a shame because playing with the color palette and lighting could have been a real benefit for such a tense atmosphere. Regardless, it's still a masterwork of terrific performances and story Wyler and from both Terence Stamp and Samantha Eggar.
Tim Salmons
Super Reviewer
Sad and creepy but still very watchable thanks to the usual excellent direction of William Wyler and the accomplished playing of Samantha Eggar and especially Terence Stamp whose icy demeanor as well as his ice blue eyes have rarely matched his character so well. The ending is chilling.
½
Eh, the book was much creepier.
Jennifer Xu
Super Reviewer