The Complete Metropolis
(2010)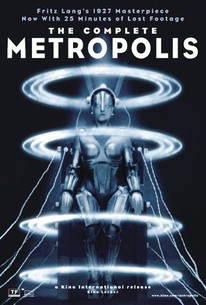 AUDIENCE SCORE
Critic Consensus: No consensus yet.
Movie Info
With its dizzying depiction of a futuristic cityscape and alluring female robot, Metropolis is among the most famous of all German films and the mother of sci-fi cinema. Directed by the legendary Fritz Lang, its jaw-dropping production values, iconic imagery, and modernist grandeur remain as powerful as ever. Drawing on -- and defining -- classic sci-fi themes, Metropolis depicts a dystopian future in which society is thoroughly divided in two: while anonymous workers conduct their endless drudgery below ground their rulers enjoy a decadent life of leisure and luxury. When Freder ventures into the depths in search of the beautiful Maria, plans of rebellion are revealed and a Maria-replica robot is programmed by mad inventor Rotwang and master of Metropolis Joh Fredersen to incite the workers into a self-destructive riot. Metropolis is presented here in a newly reconstructed and restored version, as lavish and spectacular as ever thanks to the painstaking archival work of the Friedrich-Wilhelm-Murnau-Stiftung and the discovery of 25 minutes of footage previously thought lost to the world. Lang's enduring epic can finally be seen - for the first time in 83 years - as the director originally intended, and as seen by German cinema-goers in 1927.
Critic Reviews for The Complete Metropolis
Audience Reviews for The Complete Metropolis
In the future, Freder(Gustav Frohlich) is one of the elite whose every need is catered to without asking. That easy life is interrupted when Maria(Brigitte Helm) takes a group of workers' children to the Eternal Garden to see how the other half lives. Instantly smitten with her, Freder runs after her and ends up in the workers city, witnessing an explosion. His father(Alfred Abel) is mad that he has to hear this from his son and not his trusted associate, Josaphat(Theodor Loos), firing him instantly. Freder runs after him, so that he does not do anything stupid by telling him he has a plan to help everybody... I had seen "Metropolis" twice before in the shorter Giorgio Moroder version released in the 80's with a pop soundtrack that I am sure a cynic would accuse of trying to turn this classic movie into nothing more than a music video. The first time was in college while the second time was a few years later at Symphony Space in Manhattan where the soundtrack was turned off, allowing for piano accompaniment and laughter during the end credits at the names of 80's pop bands. This review is for the recently restored version.(If I have one recent regret, it is that I did not see it at the venerable Music Box Theatre in Chicago, where its dazzling visuals would have been best apprciated, when I had the chance, instead of my portable DVD player.) Another regret might be not having seen Christopher Hitchens speak in person.) This version returns it to suitably epic status in its class conflict, acting as a warning to future generations.(Going by the grainy footage restored, I am left wondering why a lot of the material was orignally cut from the thrilling climax.) Although what about is a little nebulous with Christian imagery all over the place which would have been fine if it had stuck to a social gospel but here it is positively apocalyptic. Rotwang(Rudolf Klein-Rogge) who is more wizard than scientist seems rather fond of pentacles. So, of course, you should never trust a mad scientist and beware of false prophets. That's not to mention the whole Tower of Babel business. And don't forget the cameo from the seven deadly sins. But since when did a little debauchery hurt anybody?
Okay, this is going to be short and to the point and will not feature any review for the films, seeing as how I have already taken care of that in my review for the original version of this film. This review is for the restoration of the print and to say if this film adds anything new to the story of METROPOLIS. In terms of the restoration, this film is breathtaking. I am not joking. As someone who has always watched the generic, public domain print, seeing a clean, crisp, new print that has had some scenes painstakingly fixed is beyond breathtaking and mind boggling. Watching this film with a clean negative, it is like watching this film when it first premiered: outstanding. Now, due to this print featuring scenes that were originally removed due to time, it is sad that those scenes are still scratched up and tinted green. But, for what is shown, it is amazing to behold. With these scenes, you are probably wondering if this adds to the film. In my opinion: no. The best comparison I can make is that The Complete Metropolis is like the uncut version of Stephen King's The Stand. It adds nothing new to the story, just expands the universe that is created. In terms of which film is better to watch, check this print out for the clean presentation and the more visual appeal of the world that is still Fritz Lang's masterpiece.
Zach Brehany
Super Reviewer
Everyone needs to give silent films a chance and the starting place should be Metropolis! A really engaging character-driven film that is the forefather of modern sci-fi. With the newly restored 30 minutes available on The Complete Metropolis (The version I'm reviewing) it really ties loose ends and creates a much more smooth flow to the film. Watching it without these crucial scenes is like watching another classic and walking out every few minutes and coming back to it. Highly Recommended! ***This film was released in 1927, but lost footage wasn't discovered until 2010 hence the date for this version.
Chris Browning
Super Reviewer
The Complete Metropolis Quotes
There are no approved quotes yet for this movie.