The Conformist
(1970)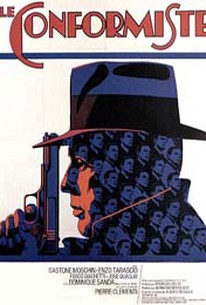 TOMATOMETER
AUDIENCE SCORE
Critic Consensus: A commentary on fascism and beauty alike, Bernardo Bertolucci's The Conformist is acclaimed for its sumptuous visuals and extravagant, artful cinematography.
Movie Info
The conformist is 1930s Italian Marcello Clerici (Jean-Louis Trintignant), a coward who has spent his life accommodating others so that he can "belong." Marcello agrees to kill a political refugee, on orders from the Fascist government, even though the victim-to-be is his college mentor. The film is a character study of the kind of person who willingly "conforms" to the ideological fashions of his day. In this case, director Bernardo Bertolucci suggests that Marcello's desire to conform is rooted in his latent homosexuality. In addition to its strong storyline, the film is critically revered for the astonishing production design by Nedo Azzini, which, together with Vittorio Storaro's camerawork, recreates the atmosphere of Fascist Italy with some of the most complex visual compositions ever seen on film, filled with highly stylized uses of angles, shapes, and shadows. The Conformist was cut by five crucial minutes when first released in the US; those missing moments were restored in the 1994 reissue. ~ Hal Erickson, Rovi
Critic Reviews for The Conformist
Audience Reviews for The Conformist
A different kind of movie about fascism than we're used to in the 2000s--one that makes little use of the jackboots and black uniforms and waving banners that have become almost cartoony fetishizations--The Conformist is in many ways the simple story of a man who takes a job. It's subtle and understated and chilling, a human story in an inhuman time that unfolds slowly, almost like a detective novel. It's rich in every shot and impossible to look away from. An absolute must-see.
Daniel Perry
Super Reviewer
Appreciate it more than I enjoyed watching it. Beautifully shot, incredibly insightful, often boring.
½
A fine movie, but dry and difficult to relate to. I can't imagine many people calling this a favorite. I have a great deal of respect for its craftsmanship, above all, most notably because the filming is beyond gorgeous. Vittorio Storaro, cinematographer extraordinaire and thrice-over Oscar winner, creates a film that looks insular and harsh even when the environment itself is enticing. A jovial dance scene turns into a cruel, claustrophobic show of mockery for our main character; a beautiful snow-covered forest becomes a scene of carnage and despair. The film is bleak and mundane, probably in keeping with its Fascist parallels, which strengthens the thematic link to its detached protagonist Marcello. He's unusual for his primary goal, which is to assimilate into the rest of Italian society and be completely forgotten. Along the way he somehow determines that the best way to do this is to become a low-grade Mussolini hitman, subsequently tasked with putting together a hit on his old college professor. Marcello becomes stranger still when you take his back story into consideration - he was molested as a child, a likely cause of his burning desire to be normal, and creating an unusual sexual ambiguity that adds weight to the ending. His loyal, oblivious wife was also taken advantage of by a much older man, and it's at this point you realize that the fact that they're both card-carrying Fascists is no coincidence. The notion of wanting to find your identity by shedding it completely is somewhat unnerving, and clearly the film's strength, because what still stands as a strong theme now must have been revolutionary in 1970. It's a little easy to kick the dead Fascist horse forty years after the fact, but so be it.
Drew Smith
Super Reviewer
The Conformist Quotes
There are no approved quotes yet for this movie.