The Conjuring
(2013)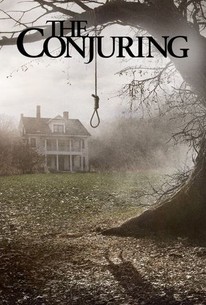 TOMATOMETER
AUDIENCE SCORE
Critic Consensus: Well-crafted and gleefully creepy, The Conjuring ratchets up dread through a series of effective old-school scares.
Movie Info
Before there was Amityville, there was Harrisville. "The Conjuring" tells the true story of Ed and Lorraine Warren (Patrick Wilson, Vera Farmiga), world renowned paranormal investigators, who were called to help a family terrorized by a dark presence in a secluded farmhouse. Forced to confront a powerful demonic entity, the Warrens find themselves caught in the most horrifying case of their lives. -- (C) WB
News & Interviews for The Conjuring
Critic Reviews for The Conjuring
Audience Reviews for The Conjuring
Since Insidious a horror film hasn't scared the crap out of me like this, and Wan follows that great movie with this genuinely terrifying story that knows how to maintain a steady level of pure terror by relying on an extremely creepy atmosphere and cinematography.
Carlos Magalhães
Super Reviewer
Horror is a thing of the past. Since films like "Psycho" or "The Exorcist" were released, horror has been mocked, satirized, remade, and turned into a money-hungry genre instead of making a film for genuine audience thrills. James Wan has proven that there are still ways to keep this genre alive. "The Conjuring" not only proves that, but also finds a place on many horror fans lists of favourite horror films. Balancing thrills, a chilling story, and great performances all around, this film stands out among the endless films in this genre nowadays. Back in 2007 when "Paranormal Activity" was released, viewers found themselves engrossed in a new format of horror storytelling, but what nobody saw coming was the endless copycats and sequels that film would spawn. Any chance that studios or filmmakers in general can get, they will run with the newest trend. The budget of horror films nowadays is a joke. Independent film companies release their films for a few million dollars and see over a 50 million dollar return in profits, which convicts them to make multiple sequels and roll in as much dough as possible and milk their metaphorical cow clean. Happily, "The Conjuring" (even though it is far better than "Paranormal Activity) is following in the footsteps of "Paranormal Activity," where it brings a very fresh cinematography style to the table, engrossing audiences all over the world in it's atmosphere. There is so much to love about every technical aspect here and the eerie scenery, mixed with genuinely terrifying performances, makes for a very solid horror film. Following Ed and Loraine Warren as they investigate paranormal occurrences, they come across the Perron's. They have recently moved into a new house that they won from an auction, and although it is a bit of a "fixer upper," they stick with it until the hauntings become far too great for them to handle. They consult the Warren's and all hell begins to break loose. From jump scares to cliched horror plots, "The Conjuring" walks a fine line of predictable and lame, but manages to stay fresh due to it's awesome direction by James Wan, extremely impressive camerawork, and very solid performances from the entire cast. "The Conjuring" is what the Hollywood horror genre needed. Overall, this film does have many cliched elements, but it runs with them and does wonders. "The Conjuring" is a great horror film.
½
While "The Conjuring" definitely isn't an original concept, and for sure isn't as scary as it tries to claim to be, it's quite entertaining. Taking the best aspects of "The Exorcist" and "Paranormal Activity," this narrative is supposedly based on a true story. This was made apparent by the way the facts of the film were presented. The actual family who is harassed by these demons are all flat characters who we really don't get to know all that well, while the husband/wife paranormal investigators get their own backstories and continual narrative, centering them in the film. There are also many Christian overtones to the storyline, probably insisted upon by the people the film is based on. I thought the scares were pretty great, and rose in tension over time, though they were obvious. The action of the film seemed in keeping with traditional myths about how ghosts haunt houses, including the strange noises, the pictures dropping off the wall, and the door creaking open, all of which have been seen in other horror film narratives. The actual backstory though, was too convoluted. Are we really supposed to believe that a Satanic witch did all those things, and then drove generations of families to do the same? This seems drastically evil, even for a story about a demonic presence. Even though many aspects of the story were assuredly contrived, there is now iconic imagery linked to this film, which is what makes the best horror movies. We now have the Annabelle doll, the hanging noose on the crooked tree, and the whirling toy music box in the horror canon. While there are many problems with the story, "The Conjuring" feels fresh and feverishly frightening.
Spencer S.
Super Reviewer
The Conjuring Quotes
| | |
| --- | --- |
| Ed Warren: | It was big mistake, acknowledging this doll. Though it. The inhuman spirit tricked you.. |
| | |
| --- | --- |
| Roger Perron: | I don't know what you are! But you leave my wife alone damn you! |
| Bathsheba: | She's already gone.. And now your all gonna die |
| | |
| --- | --- |
| Ed Warren: | Sometimes it's better to keep the genie in the bottle. |
| | |
| --- | --- |
| Drew: | You can't shoot a ghost. |