The Conquest
(2011)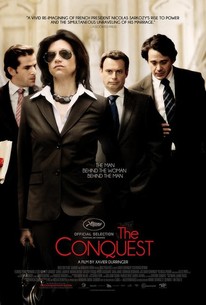 TOMATOMETER
AUDIENCE SCORE
Critic Consensus: The Conquest commendably dramatizes French President Nicholas Sarkozy's rise to power, with a persuasive ensemble and a politically astute script handsomely compensating for a generic visual presentation.
Movie Info
The Conquest chronicles the volatile right-leaning Nicolas Sarkozy's startling rise to become President of France and the emotional and psychological stakes involving the conquest of power. On the day the diminutive Sarkozy conquered his ultimate ambition, his wife who for twenty years had struggled to pull the man she loved from the shadow into the light walked out on him for another man. -- (C) Music Box
News & Interviews for The Conquest
Critic Reviews for The Conquest
Audience Reviews for The Conquest
As Nicholas Sarkozy(Denis Podalydes) wakes up on election day in 2007, it starts out well enough as he wins the vote in New York and Israel. But he is still worrying about the whereabouts of his wife Cecilia(Florence Pernel) and more importantly whether or not she will be voting with him. However, that is nothing compared to five years previously when President Jacques Chirac(Bernard Le Coq), feeling Sarkozy would only lose in a national election due to his conservative politics, chooses Dominique de Villepin(Samuel Labarthe) to be Prime Minister, leaving the Ministry of Interior to Sarkozy. "The Conquest" seeks to dramatize Sarkozy's rise to power by also undermining him by showing that the only way he got elected was in the media's preference of personality over policy. While possibly not wrong, it is a neat trick that the movie never quite pulls off, as it also falls into the same trap by mostly avoiding politics except by mentioning Sarkozy is pro-American.(Which I guess might be the same as being pro-French here in the States, I suppose.) As far as being satire, not much, except for the jaunty soundtrack and one masterful shot that starts with Sarkozy eating alone, before panning to the press who then rush off to cover Villepin on the beach. The only irony comes when Chirac says the socialists will never win an election in France. Who knew? Plus, Podalydes gives one of those performances usually seen on Saturday Night Live where a performer does an impression by picking on a singular personal tic and then hammering it into the bedrock.
The Conquest Quotes
There are no approved quotes yet for this movie.