The Conversation
(1974)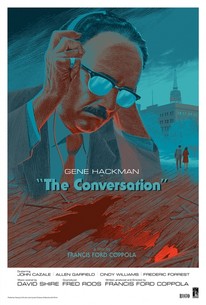 TOMATOMETER
AUDIENCE SCORE
Critic Consensus: This tense, paranoid thriller presents Francis Ford Coppola at his finest -- and makes some remarkably advanced arguments about technology's role in society that still resonate today.
Movie Info
Made between The Godfather (1972) and The Godfather Part II (1974), and in part a homage to Michelangelo Antonioni's art-movie classic Blow-Up (1966), The Conversation was a return to small-scale art films for Francis Ford Coppola. Sound surveillance expert Harry Caul (Gene Hackman) is hired to track a young couple (Cindy Williams and Frederic Forrest), taping their conversation as they walk through San Francisco's crowded Union Square. Knowing full well how technology can invade privacy, Harry obsessively keeps to himself, separating business from his personal life, even refusing to discuss what he does or where he lives with his girlfriend, Amy (Teri Garr). Harry's work starts to trouble him, however, as he comes to believe that the conversation he pieced together reveals a plot by the mysterious corporate "Director" who hired him to murder the couple. After he allows himself to be seduced by a call girl, who then steals the tapes, Harry is all the more convinced that a killing will occur, and he can no longer separate his job from his conscience. Coppola, cinematographer Bill Butler, and Oscar-nominated sound editor Walter Murch convey the narrative through Harry's aural and visual experience, beginning with the slow opening zoom of Union Square accompanied by the alternately muddled and clear sound of the couple's conversation caught by Harry's microphones. The Godfather Part II and The Conversation earned Coppola a rare pair of Oscar nominations for Best Picture, as well as two nominations for Best Screenplay (The Godfather Part II won both). Praised by critics, The Conversation was not a popular hit, but it has since come to be seen as one of the artistic high points of the decade, as well as of Coppola's career. Its atmosphere of paranoia and suspicion, combined with its obsessive loner antihero, made it prototypical of the darker "American art movies" of the early '70s, as its audiotape storyline also made it seem eerily appropriate for the era of the Watergate scandal. ~ Lucia Bozzola, Rovi
Critic Reviews for The Conversation
Audience Reviews for The Conversation
½
A sophisticated and taut narrative in which Coppola does with sound what Antonioni had done with image in his Blow-up, following a paranoid man unable to open up to anybody and trying desperately to put the pieces together of something that he cannot understand.
Carlos Magalhães
Super Reviewer
½
Ahhhh ... just because yer paranoid don't mean they're not out to get you, eh? Yes, yes, yes ...
Kevin M. Williams
Super Reviewer
Between The Godfather and The Godfather Part II Francis Ford Coppola made a film developed from an idea he had almost a decade earlier. Ironically, the main idea behind the film (tape recording) would be the focal point of one of the worst scandals in American history that was going down as this film was being produced and released. The Conversation is about surveillance expert Harry Caul (Gene Hackman), who is a legend in his field, but has skeletons in his closet. Supported by his assistant Stan (the always great John Cazale) Harry has been hired to record and report on a couple (Cindy Williams and Fredrick Forrest) by a man only known as The Director (Robert Duvall). As the job progresses Harry begins to worry about what the consequences of the information he's about to deliver will have on the parties lives based on an incident from his past that still haunts him. Hackman plays Caul as a very low key individual that doesn't want any attention, yet is the center of attention in his little world of watching and listening. He's an anxious little man that knows his business and understands who to operate his personal life to keep it out of his work life. Hackman had hit it big by this point and The Conversation really is a change of pace compared to some of hos other work, mainly looking at The French Connection. The other surprising standout in the film is Harrison Ford as Martin Stett, the threatening thug like individual that is the barrier between the world and The Director. Ford's performance is very confrontational, but he doesn't really do anything to give you a reason to fear him. It's all in your head. The main theme of The Conversation is paranoia. The thing is that the paranoia belongs to Harry Caul. He's the one that's watching people, but he's the most fearful in the film. From the early moments of the movie you see how Harry dictates his entire life to maintain his privacy and you get to the point that you wonder if maybe some of this fear is in his head, held up by Harry having some delusions leading him to fear that history was going to repeat itself. Where the two Godfather films were expansive films traveling over thousands of miles and involving decades. they're open and airy and give you plenty of room to breathe. The Conversation is the opposite. It's a claustrophobic film that has you breathing heavy from the fear of what's closing in on us. The stinger on all of this is that even though there is no one nearby, you are being held close with the technology that lets you see and hear from elsewhere, which ironically has become even more prevalent forty years later with our advances in tech. The film itself serves as another Coppola classic from his prime era in the 1970's It's a great film that kind of gets pushed away due to the Godfather films. 70's grit at its finest, almost symbolizing the greatness of the cinema of the era.
Chris Garman
Super Reviewer
The Conversation Quotes
| | |
| --- | --- |
| Harry Caul: | [upset, walking over to Martin seated] What are you doing here? |
| Martin Stett: | Take it easy I'm just a messenger. I brought you a drink |
| Harry Caul: | I don't want your drink. Why are you following me? |
| Martin Stett: | I'm not following you I'm looking for you. There's a big difference. |
| | |
| --- | --- |
| Stanley: | What a STUPID conversation |
| Stanley: | What a STUPID conversation. |
| | |
| --- | --- |
| Mark: | He'd kill us if he got the chance |
| Mark: | He'd kill us if he got the chance. |
| | |
| --- | --- |
| Harry Caul: | I'm not afraid of death...I am afraid of murder. |
| Harry Caul: | I'm not afraid of death... I am afraid of murder. |