The Counselor
(2013)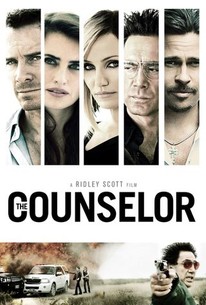 TOMATOMETER
AUDIENCE SCORE
Critic Consensus: The Counselor raises expectations with its talented cast and creative crew -- then subverts them with a wordy and clumsy suspense thriller that's mercilessly short on suspense or thrills.
Movie Info
Legendary filmmaker Ridley Scott and Pulitzer Prize winning author Cormac McCarthy (No Country for Old Men) have joined forces in the motion picture thriller THE COUNSELOR, starring Michael Fassbender, Penélope Cruz, Cameron Diaz, Javier Bardem, and Brad Pitt. McCarthy, making his screenwriting debut and Scott interweave the author's characteristic wit and dark humor with a nightmarish scenario, in which a respected lawyer's one-time dalliance with an illegal business deal spirals out of control. (c) Official Site
Critic Reviews for The Counselor
Audience Reviews for The Counselor
Considering the amount of talent working together here both in front and behind the camera, this has to be one of the most catastrophic misfires of all times. While it is trying to make a point of the evilness of the world we live in, the result is way too long, confusing, uninteresting and simply ugly.
The most directionless and pointless movie that offers the audience nothing! Good cast but all forgettable in this wordy but stupid script! A truly lazy movie that should be avoided at all costs!
Film Crazy
Super Reviewer
The Counselor had all the makings of a fine dramatic thriller, great cast, fine director, interesting premise, yet the result is underwhelming. I didn't think the film was awful like so many other viewers, but I felt that the film overall was overall bland, and it tried to be far too ambitious without exploring its ideas to the fullest, leaving a lot to be desired. The first half of the film I thought was very good, interesting and had enough for a great set up, but the second half, that's where things fall apart. I felt that during the film's second hour, the film was all over the place, and after a while, you simply lost interest and that's a shame because with the amount of talent involved, this film should really have been something great. The film's biggest problem is that the film's script is underdeveloped and there are far too many ideas that simply don't come to fruition. The Counselor could have been an engaging thriller, but it ends up being a mediocre film, despite a strong start. Don't go into this one expecting a good film, you'll sadly be disappointed, as this film never satisfies and it ends up being a waste of time. I love Ridley Scott, and he is one of my favorite directors, however here, he struck his first dud in many years, and that's saying something. Despite the talent involved here, the overall execution of the film is poor, and it leaves you wanting more out of the film. The idea was great, and it had the potential of being truly something impressive, but that was not to be. The Counselor doesn't thrill, enthrall or entertain, it just lingers for two hours with a two many wasted ideas stuck in a poorly held together screenplay that should definitely Have been reworked a bit more before the cameras started rolling.
The Counselor Quotes
| | |
| --- | --- |
| Ruth: | Thanks. I owe you. |
| Counselor: | Yes, you do. |
| Ruth: | How 'bout a blowjob? |
| Counselor: | You'd still owe me $380. |
| | |
| --- | --- |
| Westray: | If your definition of a friend is someone who will die for you, then you don't have any friends. |
| | |
| --- | --- |
| Diamond Dealer: | To partake of the stone's endless destiny, is that not the meaning of adornment? To enhance the beauty of the beloved is to acknowledge both her frailty and the nobility of that frailty. At our noblest, we announce to the darkness that we will not be diminished by the brevity of our lives. |