The Counterfeiters
(2007)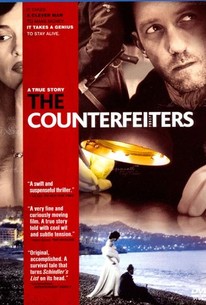 The Counterfeiters Photos
Movie Info
Writer/director Stefan Ruzowitzky explores the moral corrosion of Nazi complicity with this tightly wound adaptation of Adolf Burger's fact-based book The Devil's Workshop. Salomon Sorowitsch (Karl Markovics) may be a talented artist at heart, but his desire for wealth has driven him to use his creativity for more nefarious means. Arrested by the police inspector Herzog (Devid Striesow) at the onset of World War II, Sorowitsch is sent to the notorious Mauthausen concentration camp. It's not long before Salomon's thinly veiled opportunism earns him a relatively comfortable position as the camp's resident sketch artist, and five years later he is mysteriously swept away to Sachsenhausen. Upon arriving at the camp, Sorowitsch discovers that Herzog, now a commandant, is attempting to destabilize the economies of the Allies while simultaneously funding the Nazi war machine by assembling a special team of counterfeit artists to create millions in fraudulent pounds and dollars. As the operation gets under way, Sorowitsch finds the efforts of the team continually undermined by unyieldingly idealistic collotype specialist Adolf Burger (August Diehl). In the months that follow, the team wrestles with their consciences as Axis forces are gradually overwhelmed by Allied might. The Counterfeiters won the Oscar for Best Foreign Language Film. ~ Jason Buchanan, Rovi
Critic Reviews for The Counterfeiters
Audience Reviews for The Counterfeiters
This dark film based on a true story works as an absorbing moral exercise about the terrible choices that some were forced to make in order to survive the horrors of the Holocaust, and it deserves even more credit for making us sympathize with a not-very-likable anti-hero.
Carlos Magalhães
Super Reviewer
The Counterfeiters is a fictionalized do-or-die tale of survival by a group of talented counterfeiters set World War II Nazi concentration camp. Bold, brave, and provocative new perspective on Operation Bernhard and its role in the Holocaust. Credible cast and performances. A deserving 2007 Academy Award Best Foreign Language Film winner.
Jan Marc Macababayao
Super Reviewer
½
It may be hard to some to dare say negative things about a movie with such a delicate storyline, but The Counterfeiters has really nothing extraordinary to it and I now seem to be the only one to say it is a terribly overrated movie. The direction, which gives a TV look to the film (it was a great thing for The Pianist; here, it is only making it look cheap), is unfortunately very unsensitive while strong emotions should be what you'd find in a movie that is supposed to be inspiring. While it failed to inspire anything in me, it did manage to protray the horror of the Holocaust but never came close to other great films of the genre. Its qualities are never enough considerable to overcome its tactless and cold portrayal of a journey that was supposed to feel inspiring.
Emile Tremblay
Super Reviewer
The Counterfeiters Quotes
There are no approved quotes yet for this movie.