The Courier
(2012)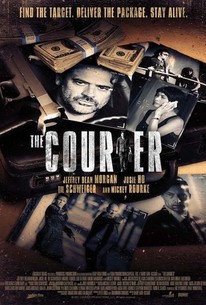 AUDIENCE SCORE
Critic Consensus: No consensus yet.
Movie Info
A million bucks, just to deliver a briefcase... The catch is delivering it to a killer as elusive as a nightmare and so feared the entire Underworld trembles at the mention of his name. But The Courier (Jeffrey Dean Morgan) is no ordinary carrier. In a business that asks no questions he's the best there is, and with the life of his only friend held to ransom there's no way he's missing the drop, come hell or high water. Hounded by hitmen and hustlers, double dealing feds and double crossing accomplices, the Courier embarks on an impossible search for the bogeyman of the underworld, a search that unravels his own murky past. -- (C) Official Site
Critic Reviews for The Courier
All Critics (1) | Fresh (1) | Rotten (0)
Cooke has clearly studied "The Third Man" and John LeCarré's spy novels, and creates an oppressive atmosphere filled with deep shadows from where suspicious eyes may be watching.
Audience Reviews for The Courier
A trite and generic thriller, The Courier lacks originality and is poorly made. When a specialist is hired to deliver a mysterious case to a notorious crime lord named Evil Sivle the job turns deadly and may end up costing him his life. The plot's completely formulaic and the storytelling is especially bad; particularly in the last act. Jeffrey Dean Morgan and Mickey Rourke headline the film, but the performances are all rather weak. The Courier is a vapid and uninspired film that doesn't really put forth much effort.
Dann Michalski
Super Reviewer
½
A stylish, intriguing and hard-edged crime-thriller. It's The Transporter meets Lucky Number Slevin. A tough and slick film packed with razor-sharp suspense, quick-trigger action and a solid cast. Director, Hany Abu-Assad crafts a fast-paced, compelling and carefully scribed film with darkly engaging characters and a surprising story that keeps you guessing right to the end and leaves it open. Jeffrey Dean Morgan gives a strong and fiery performance, he is amazing leading man material. Morgan has such depth in his eyes, that shows the darkness and regret of his character but also his unique approach to be vulnerable.
"I really like Jeffrey Dean and Mickey Rourke, but man was this movie just awful. I was hoping for a low budgest action film that would surprise me by being good. But unfortuantely, it was just a bad low budget movie with dodgy acting. I have seen much, much, much better acting and movies come from both of these actors. Not even their performances, which were not that great either, help this film. It is poorly directed, scripted, acted, and casted. Nothing I can think of stands out as being good in this flick. This is actually a movie I would consider people skip. I know I usually say see it, make up your own mind, but not with this one."
♥˩ƳИИ ƜѲѲƉƧ♥
Super Reviewer
The Courier Quotes
There are no approved quotes yet for this movie.