The Criminal
(2002)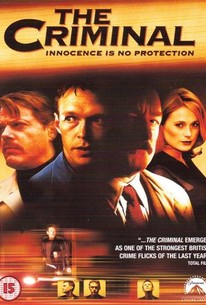 Movie Info
In this gritty crime drama, Jasper (Steven Mackintosh) is drinking in a pub one evening when he meets a beautiful woman named Sarah (Natasha Little), who after some conversation, seems quite willing to go back to Jasper's apartment. Later that same evening, a pair of cops, White (Holly Aird) and Walker (Bernard Hill), are called to investigate a noise complaint, arriving at Jasper's flat to discover Sarah has been murdered. Jasper insists he had nothing to do with the crime and that a hooligan broke into his apartment and killed the woman. The police are skeptical, but they lack sufficient evidence to hold him, so Jasper is released, with White assigned to follow him. As Jasper tries to track down evidence that would clear his name, other murders fall into his path, and he soon realizes that someone is taking great pains to frame him. The Criminal also features popular British comedian Eddie Izzard -- well known for his drag stand-up act -- in a rare non-humorous role as Peter, a forensics expert with the police.
Critic Reviews for The Criminal
All Critics (6) | Top Critics (1) | Fresh (2) | Rotten (4) | DVD (1)
Simpson has created an intelligent, well-acted, twisty, spellbinding, dark and moody film that questions if what you are seeing is believable.
Like a bemused John Cusack stumbled into a very loud Steven Seagal shoot-'em-up.
I thought the movie was going to follow through, but it settles into a conventional man-on-the-run formula.
Audience Reviews
There are no featured reviews for The Criminal at this time.
The Criminal Quotes
There are no approved quotes yet for this movie.