The Crocodile Hunter: Collision Course
(2002)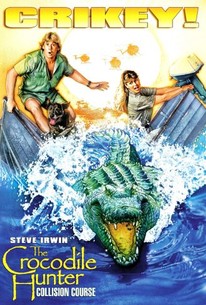 TOMATOMETER
AUDIENCE SCORE
Critic Consensus: Aside from the unnecessary plot about a downed US spy satellite, there's not much difference between the movie and the TV show.
The Crocodile Hunter: Collision Course Videos
The Crocodile Hunter: Collision Course Photos
Movie Info
Australia's high-impact answer to Marlin Perkins moves from the Animal Planet channel to the big screen in this wild and wooly comedy-drama. Conservationist and hyper-enthusiastic outdoorsman Steve Irwin (playing himself) and his wife and partner Terri (Terri Irwin) spend their days monitoring wildlife in the rugged plains of Australia, with Steve rarely passing up an opportunity to go head to head with a rambunctious animal who could seemingly kill him without breaking a sweat. Steve has learned that a rogue crocodile has been attacking the livestock of Brozzie Drewitt (Magda Szubanski), an eccentric rancher with no love for the big reptiles. Steve has decided to capture the troublesome crocodile and take it to safer waters, but as it turns out, the beast has been eating more than Brozzie's cattle -- the grapefruit-sized remnant of an American spy satellite has crashed to Earth in Australia, and the hungry crocodile has swallowed it whole. A pair of serious-minded but half-bright CIA agents, Vaughan (Kenneth Ransom) and Wheeler (Lachy Hulme), have been ordered to recover the satellite, which still has highly important data inside, and when they discover Steve has the croc with the satellite in its belly, they're convinced Steve and Terri are international spies, and they set out to wrestle the big critter away from him, which is no simple task. The Crocodile Hunter: Collision Course was directed by John Stainton, who directed most of Irwin's television documentaries; Stainton reportedly never had Irwin read the script, so he would give a more naturalistic and spontaneous performance with the film's animal cast.
Critic Reviews for The Crocodile Hunter: Collision Course
Audience Reviews for The Crocodile Hunter: Collision Course
Saw it as a kid, I remember enjoying it.
Bradley Wright
Super Reviewer
it's entertaining and also a big screen debut to the late steve irwin. it's full of fun, action, humor and steve with a croc. B
Juan Charqueno
Super Reviewer
So cute. I love The Crocodile Hunter.
The Crocodile Hunter: Collision Course Quotes